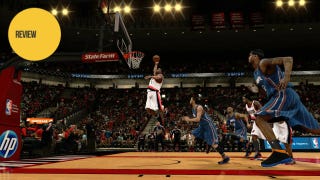 2K Sports started an arms race with itself three years ago when it landed Kobe Bryant, the greatest player of his era, for the cover of NBA 2K10. Then it reached into the record books to trump him with Michael Jordan in NBA 2K11—and then grabbed Larry, Magic, and Michael for NBA 2K12. So when basketball fans wondered how NBA 2K13 was going to top last year, their eyes naturally turned to the cover subject.

The real escalation all along was in three all-new modes of play developer Visual Concepts crafted for each of those releases. First My Player, the game's role-playing superstar fantasy, debuted, then came the Jordan Challenge, and then NBA's Greatest, a mode that connected me not only to the game of basketball, but also to the game that past generations loved.
In comes NBA 2K13, with another three stars on the cover, none of them yet hall of famers. This is a game that has considerately backed away from trying to outbid itself, offering a broader-based pitch that includes a much needed control refinement, and presentation that bespeaks the really big name on the box, Jay-Z, who came aboard to serve as the game's executive producer.
That does not mean NBA 2K13 stopped trying. It is, however, maturing into a lifestyle product, which is especially visible in the way you are encouraged to develop yourself as an NBA superstar, and outfit yourself in luxury accessories and slick postgame threads. And in the way you will pay for it all.
WHY: NBA 2K13 serves the flashiest sport and sports lifestyle in North America with rich gameplay and deep career modes.