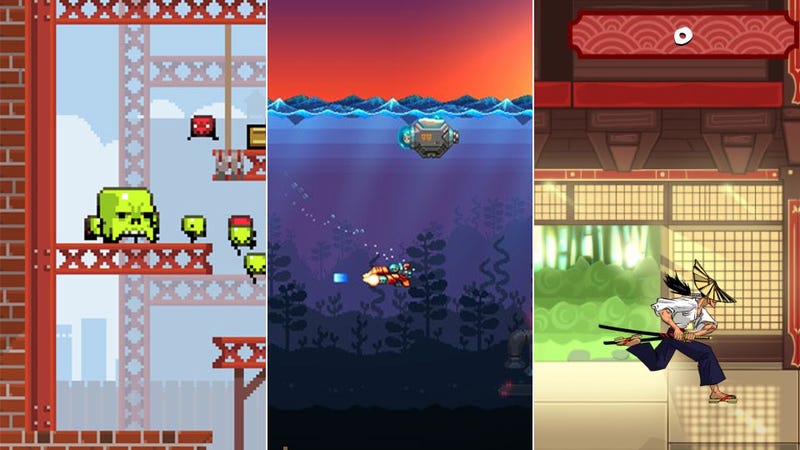 Earlier this week Sony unleashed 20 (mostly) new games on PlayStation Mobile, the new indie game delivery platform for the PlayStation Vita and PlayStation Certified devices. That's a lot of games to take in all at once, so we did it for you.
We played every game available on PlayStation Mobile so you didn't have to, putting the fresh batch of titles through their paces on both the Vita and an Xperia Ion from Sony. Let's see what games are worth your hard-earned pocket change.
Aside from Super Crate Box, of course.
---
Aqua Kitty - Milk Mine Defender
Developer: Tikipod
Price: $3.49
The last word in the title is key. This game is like the classic arcade side-scrolling shooter Defender. Except it stars cats. Who mine. Underwater. For milk. The pixel art is retro. The controls are simple and well-mapped to the Vita's sticks and buttons. This is a good arcade-style throwback, wrapped in an odd but not annoying theme.
---
Beats Slider
Developer: FuturLab
Price: $.79
The first of FuturLab's two inexpensive PlayStation Mobile apps is a wonderfully simple combination of slide puzzles and music. Each row of every slide puzzle is a track in a piece of electronic music. Complete each line to complete the song, and then move on to the next puzzle. Once you've completed a puzzle you can go back in and shuffle the titles to create your own custom remix. It's simply delightful. I'm not normally one for slide puzzles—I've never been good at them—but this little $.79 app and its 15 puzzles makes me want to get better.
---
Everybody's Arcade
Developer: Sony Computer Entertainment
Price: Free (games purchased in-app)
A selection of five mini and card games that seems geared more towards Vita players than Android gamers, Everybody's Arcade starts (on the Xperia Ion at least) with the trial version of Klondike Solitaire unlocked and four more games—Video Poker, Black Jack, Book Arranging and Pie Throwing—available for $2.99 apiece. The Solitaire is capable enough. The rest? Not enticing enough to spend $2.99 on, that's for sure.
---
Flick Hockey
Developer: Spinning Head
Price: $2.29
Flick Hockey is an incredibly basic version of Air Hockey, the third-favorite game of drunk people in seedy bars next to Pool and tossing sharp objects (hopefully) at the wall. The choices are third-person single-player, top-down single-player or top-down multiplayer. Flick Hockey plays well enough, but there really isn't enough here to get excited about.
---
Frederic - Resurrection of Music
Developer: Forever Entertainment
Price: $3.99
Not much has changed from the iPhone release of Frederic - Resurrection of Music, and that's a wonderful thing. Everything that made this wonderfully bizarre piano battle game my Gaming App of the Day pick this past January translates wonderfully to the Vita. One of my favorite rhythm games reaches a whole new audience. Everybody wins!