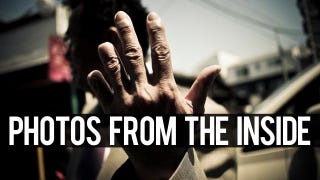 They're called thugs. The Japanese media labels them "bouryokudan" (暴力団), or literally "violence" (暴力) "group" (団). They call themselves humanitarian outfits. The world knows them as the yakuza. Here is a glimpse inside.

Photographer Anton Kusters and his brother, Malik, documented two years in the life of the Shinseikai family, which operates in Tokyo's Shinjuku. The result is Odo Yakuza Tokyo, which was first published a few years back.
Kusters recently talked to New York Daily News about the experience, calling it a "rollercoaster ride."
"I try to share not only their complex relationship to Japanese society, but also to show the personal struggle of being forced to live in two different worlds at the same time; worlds that often have conflicting morals and values," explains Kusters on his official site. "It turns out not to be a simple 'black' versus 'white' relationship, but most definitely one with many, many, many shades of grey."
Kusters' remarks echo what Jake Adelstein, author of Tokyo Vice, told Kotaku back in 2011. "The yakuza don't think of themselves as criminals, because they argue that they are ninkyou dantai, aka 'humanitarian groups'," said Adelstein at the time. This is why the concept of chivalry, or "ninkyou" (任侠), is synonymous with the yakuza.