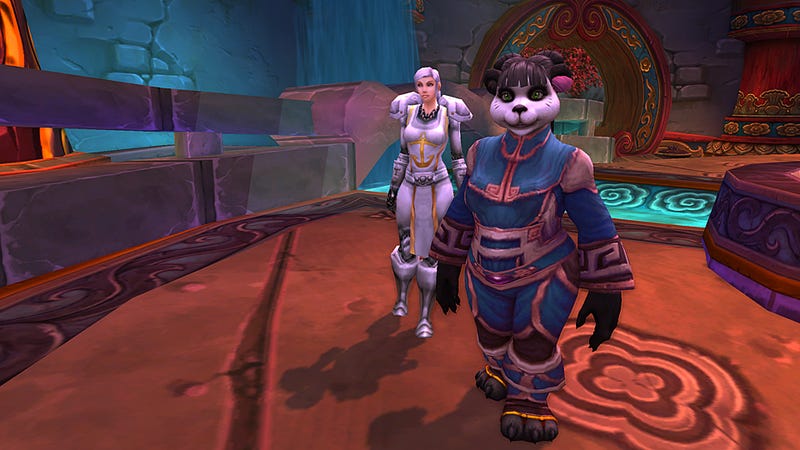 [The Mists of Pandaria expansion to World of Warcraft introduces new content in the starter levels as well as in the late game. This is a look at how new, low-level content appears to a new player. We'll also be posting a look at Pandaria's new level 85-90 zones, and the veteran perspective, from a more experienced hand.]
Nearly every MMORPG I have ever played suffers from one jarring, universal problem. It's particularly bad in brand-new games, or in brand-new content added to older games. I claw my way through a throng of other players who look just like me, to speak with an NPC. "I've never seen anything like you!" my quest-giver gushes.

Really? Because I can spot fifty right now, with a brand new hundred by the time I get back to you to turn in my ten dead things.
Being one of many facing cognitive dissonance in the panda throng is not new, unusual, or unexpected. It is, however, the first in a series of many events that tell me Mists of Pandaria doesn't give two shakes of a panda's tail what an honest-to-god new player thinks of World of Warcraft. Actually, I lie. It's the second such event. The first happened before I even logged into the game, upon discovering that a Mists of Pandaria purchase doesn't include base game access, and is not valid to upgrade a trial World of Warcraft account. You need to get the base game (now sold in Battle Chest form with two expansions) first.
I am that rare thing, an honest-to-goodness World of Warcraft newbie. I have played many MMOs, including WoW clones and competitors, but other than three weeks in 2006 and a very brief foray into the Pandaria beta, this is the first time I have ever actually sat down to play the dominant game of the genre.