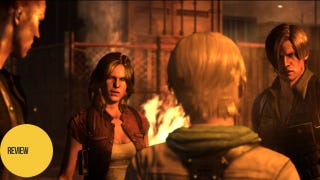 The old dread isn't coming back. You remember it, don't you? The shock of terror when you stumbled in on a zombie chomping on a corpse in the first Resident Evil. Or when the undead dogs jumped through the window? Those are signature moments—along with the compulsive hoarding of typewriter ribbon—that anyone who's played the classic survival horror game will remember.
The question Resident Evil 6 faces, then, is whether it can create new shivers or replace that terror with something else as memorable. Despite delivering a game with three campaigns and a load of online features, the answer is clear that this new Resident Evil lacks the wherewithal to either scare you or impress you.
My love for the old Resident Evil titles came from those games feeling like self-contained incidents of horror. Somewhere along the line, the series' custodians got more concerned with connecting the games' plots in a labyrinthine continuity than in growing new gameplay ideas.
Resident Evil 6 reverses that trend. This outing feels like it's trying to please several different sorts of gamer and draws from the series' own glory days and titles created in the West to do so.
WHY: The interesting changes in this Resident Evil can't save it from feeling bloated and boring.
---
Resident Evil 6
Developer: Capcom
Platforms: PlayStation 3 / Xbox 360 (version played)/PC
Released: October 2nd
Type of game: Dramatic horror—that's what Capcom's calling it, anyway—third-person action game.
What I played: Finished three main campaigns and an unlockable one over the course of about 30 hours. Sampled the offline Mercenaries Mode, co-op campaign and Agent Hunt.


Two Things I Liked
Resident Evil 6 sports clever enemy design that always forced me to switch up tactics.
I wasn't scared very much, but I was grossed out a lot by the wretched looks and squelchy sounds of the rotten-flesh antagonists.
Two Things I Hated
Checkpoints that don't save, throwing me back at least an hour. This happened to me twice.
Doing the whole "kill the boss, he comes back… again and again" thing once is bad enough. Two times? Three times? Unacceptable.
Made-to-Order Back-of-Box Quotes
"YOU ARE DEAD… to me, Resident Evil 6" -Evan Narcisse, Kotaku.com
"Resident Evil 6: proof that a video game can be morbidly obese." -Evan Narcisse, Kotaku.com
The weight of the exertion put into Resident Evil 6 is palpable. It holds three storylines that each follow a pair of characters as a bioterrorism plague unleashes monstrosities of all sizes throughout the United States and China. (There's also an unlockable fourth campaign.) Each thread has crossover junctions where people can jump into other folks' games. RE6 also has the most robust multiplayer options in series history. The adventures of Chris Redfield and Piers Navins, Sherry Birkin and Jake Mueller or Leon Kennedy and Helena Harper all carry slightly different flavors, each one seemingly designed to speak to different tastes.