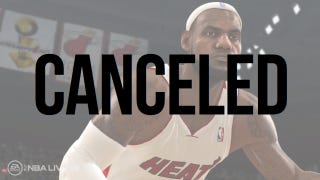 EA Sports today canceled its troubled NBA Live 13 project. It is the second time in three years that sports video gaming's dominant publisher has pulled the plug on its NBA simulation at the last minute.

Andrew Wilson, the executive vice president in charge of the label, announced the decision in a statement posted to NBA Live's official site.
"Having continued to look at the game over the past few days, it's clear that we won't be ready in October," Wilson said. "And rather than launch midway through the season, we're going to sit out the full year and stay focused on making next year's game great."
An EA Sports spokesman confirmed to Kotaku that this is not the cancellation of the entire series, just this edition. Asked if any changes would be made to the leadership of the development team, the spokesman said the label had no announcements to make regarding staffing, and declined all further comment.
"I'm disappointed that we have not yet met our high expectations with NBA Live, but I remain motivated about where we're going," Wilson said. "We're committed to delivering new innovation in online, and our progress in the visual presentation of the game continues to take big strides. We also know that a great game starts with great gameplay, and this remains a huge priority for us."
The entire text of his statement may be read here.
It is unclear what exactly tanked NBA Live 13, which showed some promise as a work-in-progress and then fell flat on its face in a hands-off demonstration at E3 that seemed only to spotlight poor visuals and broken player AI.