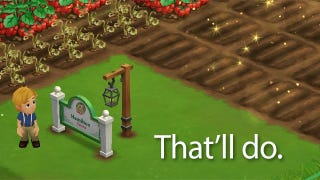 This past weekend, I took a trip out of town. I went outdoors, I sat in the sun. I drove through Northern California, past vinyards and polo fields, plots of land with a strip of earth out front for growing tomatoes and corn. I didn't really have my computer with me.
When I got back, I found my FarmVille 2 farm waiting for me, but something was different. Some of my crops had withered on the vine. For a formerly fastidious farmer like myself, this was unprecedented and more than a little bit embarrassing. Right then I realized I was probably done playing FarmVille 2.
I gave Zynga's latest Facebook social game a real, honest go. The developers at Zynga gave me an earnest sales-pitch for why I'd like the game. I wanted to give it a fair shake, and so I did.