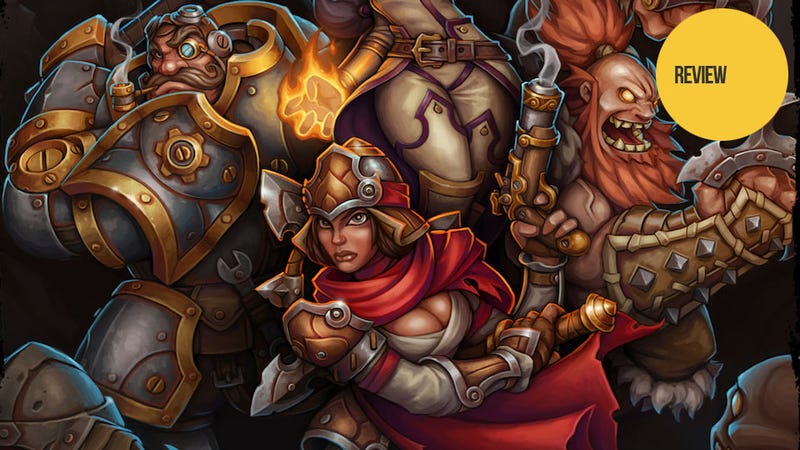 Click, kill, loot, level up. Click, kill, loot, level up. Loot, sell, re-equip. Rinse, repeat. Your weapons get more powerful as your enemies get more difficult, and the goalposts move, and move, and move. Click, kill, loot, level up. It's enough to make you wonder why we play video games in the first place.
Torchlight II, with its simple gameplay and tightly controlled loop of challenge and reward, is certainly enough to make one start questioning oneself: It's been twelve hours. Is this just a treadmill? Why am I spending time on this at all?
But each time I wondered that, I'd step back and realize how much fun I was having. And then I'd remember: I play video games because they're awesome.
As of this writing, my time with Torchlight II clocks in at just a hair under 30 hours—that includes the meaty three-act story, a ton of side quests, and a few hours of running around with alt-characters. As I started New Game+, I had killed 11,256 monsters (1638 of which exploded in gouts of blood), taken down 177 sub-bosses, looted 338 chests, caught 34 fish, gathered 231,070 gold and taken 67,272 steps. The game does not keep track of mouse-clicks, but I'm sure that if it did, I would be way past the hundred thousand mark.
Torchlight II is, on its surface, a very simple game. You control a heroic character on a quest. Using your mouse and some hotkeys on your keyboard, you maneuver him or her through a fantasy world, undertaking missions, gathering loot and gear, and clicking on enemies until they explode. It's no surprise that several staffers at Runic games worked on Diablo and Diablo II—where the original Torchlight felt like an homage to the original Diablo, Torchlight II feels somewhat like a modernized take on Diablo II. At its core, it's not a complicated game—anyone looking for strategy, contemplation, or deep tactical gameplay would be well-served to look elsewhere.
WHY: Torchlight II is a sprawling, ambitious game that does one thing very, very well. It gives you a world you'll want to explore, filled with enemies you'll love to destroy.
---
Torchlight II
Developer: Runic Games
Platforms: PC, Mac (Mac version coming soon)
Release Date: September 20
Type of game: Action-RPG centered around clicking on enemies in randomly generated dungeons while acquiring randomly generated loot and equipment.
What I played: Over a period of about 30 hours, completed the story on normal difficulty, mostly solo. Played several different multiplayer scenarios, and tried the game with two of the other character classes.

My Two Favorite Things
My engineer's devastating seismic-slam/flame-hammer combo feels more satisfying than clicking has any right to.
Writing this review and realizing that against all odds, I still want to play more.
My Two Least-Favorite Things
How difficult it is to play with friends of varying levels.
Getting sick of agonizing over loot, wishing that each item showed its suggested price so I could just value them and be done with it.
Made-to-Order Back-of-Box Quotes
"I say wrench, you say greathammer. Let's call the whole thing off."
-Kirk Hamilton, Kotaku.com
"I smashed an Urn, and I liked it."
-Kirk Hamilton, Kotaku.com
"Diablo who?"
-Kirk Hamilton, Kotaku.com
So, what compels us to play games like these? In the case of Torchlight II, it's pretty simple—the game looks and sounds splendid, and is a joy to play. Its world is inviting and rich, colors bouncing around the screen in a deadly, candy-colored fireworks show. Ex-Diablo composer Matt Uelmen's soundtrack is the perfect complement to the action, a blend of acoustic guitar arpeggios, industrial-metal dirge and dark fantasy caterwauling that stays out of the way without hiding. The feel of the game is spot-on as well, and it conveys a sense of easy empowerment—by the end of my first time through, my engineer was a walking bomb, capable of dropping seismic rifts with her boots before slamming her weapon into the earth, igniting all within her sizable reach.
If you're wondering how Torchlight II stacks up against Blizzard's recently released Diablo III, I've written a whole list of ways that the two games are similar, and different. But to sum it up, I'd say that Torchlight II feels smaller and more personal, while also managing to be more ambitious, in a rambunctious sort of way. It's a game that doesn't care about being perfect—it's much more concerned with showing players a good time.