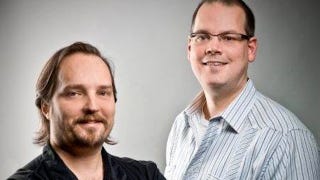 BioWare announced the departure of co-founders Muzyka and Zeschuk today on its website.
The two, informally known as the "BioWare doctors," first founded the company in 1995. Over the years the company became well-regarded for its Baldur's Gate and NeverWinter Nights franchises, as well as Star Wars: Knights of the Old Republic. Over the past five years, BioWare's been best known for the Mass Effect and Dragon Age series.
The studio's games have not been without controversy. Dragon Age II remains divisive to the point where Dragon Age III, just announced yesterday, is already a point of contention. Likewise, Mass Effect 3, released earlier this year, stirred up hot feelings around its ending, to the point where BioWare released free DLC that reworked the last 10 minutes of the game. BioWare's massive MMORPG undertaking, Star Wars: The Old Republic, also launched to good reviews but quickly lost subscribers, and is converting from a standard monthly subscription model to a full free-to-play model later this fall.