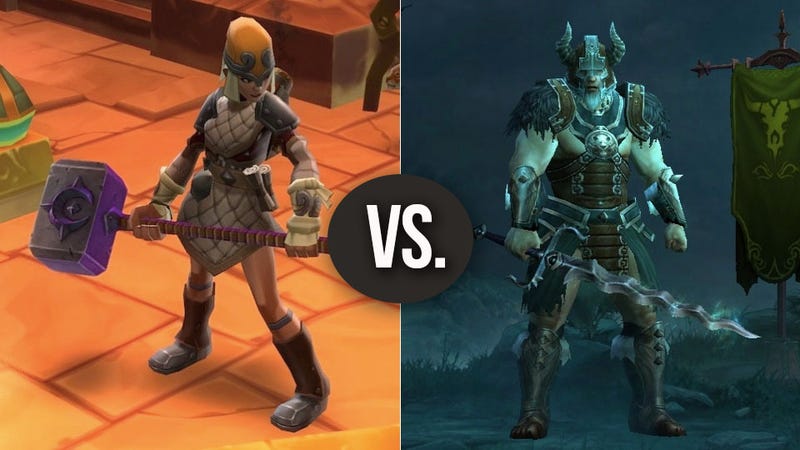 I've spent the weekend mainlining Runic's Torchlight II. As of this writing, my level 39 engineer has killed 8,800 monsters, collected 161,207 gold, imbibed 535 potions, broken 771 crates and urns, and caught 9 fish.
This game is much more of a beast than its predecessor; in terms of scale and ambition, it's right up there with the biggest names in loot-collection and click-based combat. And so of course, Blizzard's Diablo III looms large over the entirety of Torchlight II. How could it not?
Below, I've catalogued some of the many ways that the two games are different.
As I've been playing, it's been very difficult to evaluate Torchlight II on its own terms, rather than constantly thinking "Oh, so X is different from Diablo III in Y way." Rather than letting all that mess get into my review, I thought I'd write down my impressions of the campaign about 18 hours in, and put them entirely in the context of Diablo III. Hopefully that will get all the comparisons out of my system.
But let's get this out of the way: If you liked Diablo III, you will almost surely like Torchlight II. Both games feel similar at their core, both have the same randomly generated replayability, and both games are satisfying in the same compulsive, clicky way. Seriously—this doesn't have to be some winner-take-all deathmatch. Both games are fun, and the two can co-exist. That said, if you didn't like Diablo III but have liked past Diablo games, Torchlight is different enough from Blizzard's newest game that it just may be your thing.
Here we go:
---
No Internet Required
Diablo III: Internet Only | Torchlight II: Internet? What Internet?

Blizzard made the controversial decision to require an internet connection for Diablo III at all times, but Torchlight II can be played offline in single-player. While I do like the idea of a persistent, online world, in the end, I think that Blizzard's always-on requirement was and is too much of a headache. Torchlight II's approach is the clear winner. What's more, you can bring it to your next LAN party.