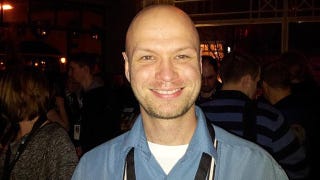 Grief, in an online community, can be a shockingly intimate thing. People who have known each other as a collection of digital avatars and assumed names gather together to mourn the genuinely painful loss of one of their own. The best and most generous parts of a community's nature often show when tragedy strikes it.
Sean Smith, known as Vile Rat in Eve Online and on the Something Awful forums, was one of four Americans killed in the attack on the consulate in Libya yesterday. In the hours since, the communities he left behind have rallied to honor his legacy in the way that only the internet really can.

Smith was highly regarded in Eve Online, where he filled the role of a Diplomat. It seems likely that his experiences working with the foreign service, even in a support role, influenced him. His skill and dedication to the role were legendary among players, and his influence was pervasive and far-reaching in the best possible way. He also served on the Council of Stellar Management (CSM), a panel of players voted into place by other players who represented player concerns in meetings with developer CCP.