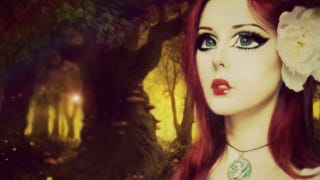 Revenge of the anime eyes! Earlier this year, models with anime-style eyes stirred up chatter online. The latest one to make waves is Odessa resident Anastasia Shpagina.
Anime eyes often appear to be camera tricks or Photoshop; however, Shpagina is also using make up tricks that help make her eyes look abnormally large. If you look closely, you can see how she drew large outlines around her eyes, and then used lighter foundation to give the appearance of huge anime eyes.
The effect is entirely different from the far more comical Lady Gaga inspired anime eyes. As with fellow Ukrainian internet celebrity Valeria Lukyanova, Shpagina shows how 2D aesthetics translate in the real world—something that has become a hot topic online in Japan.