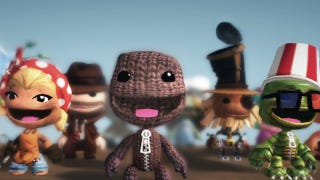 LittleBigPlanet Vita doesn't come out for another couple of weeks, but Sony has decided that they don't mind if we go ahead and talk about it now. How nice of them!
I'm taking my time playing it—LittleBigPlanet games have a lot of nooks and crannies, and I'd like to explore every one before I do a full review of the new portable version. I've played about six hours; I'm about halfway through the story, but I've also spent a lot of time playing minigames, going through downloaded levels, and taking a crack at making some levels of my own.
Here are eight things you might like to know about LittleBigPlanet Vita:
It's very much LittleBigPlanet
LittleBigPlanet creators Media Molecule aren't directly responsible for the portable incarnation of LBP—that duty has fallen to Tarsier Studios. But LBP Vita still feels very much like a LittleBigPlanet game. Too much, at times, in fact. That may be why Media Molecule moved on; LBP 2 was in many ways the ultimate version of LittleBigPlanet. That game that featured so much depth and variety that there was almost nothing left to say.
Fortunately, if you liked LittleBigPlanet 2 (which I did) then you'll feel right at home with LBP Vita. It may lack a bit of LBP 2's verve, but it's still got that great handmade feel, those goofy physics, and that lovely (though sometimes annoying) narrator.
It uses the whole Vita
You know how history teachers talk about how the indigenous people of the American west used "the whole Buffalo"? Well, LittleBigPlanet Vita uses the whole Vita. You'll use the front and back touch pads to move objects in the world, stretch back springboards, use the accelerometer to slide yourself around and even use the rear-touch pad to guide flying vehicles. It all even manages to occasionally (maybe even frequently) transcend that "We're doing this because it's a Vita game and we have to" feeling that so many of the Vita's launch titles suffered from.
The touch-screen is a good fit for the LBP vibe
Some of the touch implementation is really well done and fits well with the lived in, physical nature of the LBP world. Other things do feel gimmicky, and some of the touch-screen stuff just isn't responsive enough. But overall, the touch-screen controls feel organic and of a piece with the whole LittleBigPlanet "thing." This is particularly true in the menus—it's actually to the point that I don't think about using touch controls anymore. There are so many menus and options and do-dads in the game, and navigating them with the Vita's touch-screen feels natural and intuitive. Rotating the globe to choose a level, tapping on a level to load it, flipping through the pages in my poppit—those things all work even better than they did in LBP 2, almost as though LBP 2 should've been designed with touch in mind.
So far, the music is fine but not great
As much as LittleBigPlanet is ostensibly a game about physics-based platforming and user-generated content, it's always felt like a very musical game to me. I can't think about LittleBigPlanet 2 without hearing its amazing hodgepodge of a soundtrack. It was one of my very favorite soundtracks of 2011, and I still listen to tunes from the game when I work.