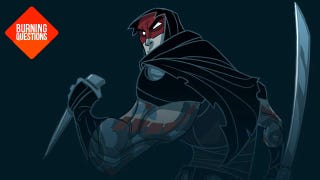 There's just something special about games that make you sneak. The push, the pull, the contemplative pause... and the rush of action. We've been spending the last week playing one of the most enjoyable stealth games in recent memory, and so we thought we'd take a closer look at the genre. What makes sneaking so much fun? What do we look for in a game about stealth? Is Metal Gear Solid about the sneaking, or is it about everything else? Short version: Why do we love stealth games so much?
Check your sight-lines and muffle your heels... it's time to ask some Burning Questions.
Kirk: Hi, Jasonbro! I bet you didn't see me over here. Snuck right up on you, I did. I thought it would be in keeping with our topic for today: Stealth games, and why we love them.
Jason: You are such a nerd.
Kirk: You're just mad because I totally snuck up on you.
Jason: You know what else snuck up on me? Mark of the Ninja! I totally didn't expect that game to be as good as it is.
Kirk: Ha, I wonder how many writers have said that. "Mark of the Ninja sure snuck up on me!" It's also been quite stealthy on the Xbox games page—for some reason, Microsoft isn't promoting it very much. Which is a crime, because this game is fantastic. (Also, readers: Check out Patricia's official Kotaku review). I had a feeling it'd be good—I've known the game's lead designer Nels Anderson for a while now, and he's a smart dude who really "gets it" when it comes to this kind of game. All the same, I too am surprised at just how good it is. It is darned good! But let's get specific. What do you, personally, like about it?