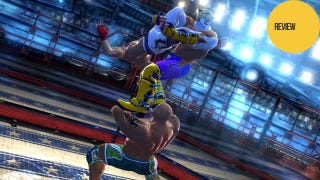 Fighting games are prom. Seriously, think about it.
All the parties involved get gussied up in their best finery and enter a space that lets them reconcile grudges and/or crushes with as much flair as possible.
So the best thing, I've found, is to start with the dance that you know how to do. My main in Tekken is Lei Wulong, a fluid s.o.b. if there ever was one. His low-to-high Rave Spin leads to a knockdown, just like always. Good. Stutter into a Lift-Up Cannon that kicks at enemy shins and ends in a launcher. Follow it up with low punches. Wait. Is that something new there? Hallelujah, a new pose that leads to new attacks. More unpredictability; more things to learn. New steps to the dance. Looks like you might get lucky during prom after all.