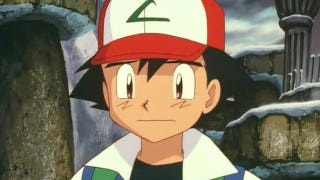 If you've ever seen the Pocket Monsters anime series, you'll wonder where the heck Ash's father is. His mom, Delia Ketchum, pops up in the series. But dear old Dad? He's nowhere to be seen.

What's more, from what I can remember, Ash's father hasn't really been referenced in the anime, save for a mention or two in the first season. He certainly hasn't appeared.
For years now, there's been speculation about the character's father, such as that he's dead à la Goku's dad, or that one of the older male Pokémon characters is his pops, or that Ash doesn't even have a father. That, you know, he's was immaculately conceived. Like Jesus.
Ash not having a father—and that father never really being addressed—does give the anime subtext that provides endless conjuncture.