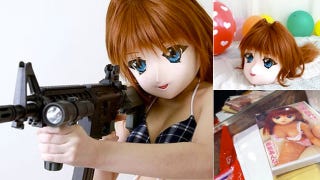 Standing out in the world of Japanese pin-up models is not easy. Being attractive is often not enough! Anna Amamiya decided the best way for her to separate herself from the competition was an anime mask.

Debuting in 2010, Amamiya released an image DVD, which featured her in various provocative poses, wearing said anime mask. The video was not a hit, and Amamiya fell off the map. Let's be honest: her get-up is slightly unsettling.
Late last month, she resurfaced, mask in tow, and will be appearing in the stage production of Japanese soccer cell phone game Venus Fantasista. After the news of her resurfacing hit, a slew of her photos popped up on English language websites and forums. People used the opportunity to say, "Oh Japan is so weird!"
Japanese forums then translated some of these online comments, highlighting that foreigners think Japanese people are odd and then made a series of wry, ironic comments about the whole thing. See, Japanese people think Anna Amamiya is bizarre, too! That's the point.
"No, Japanese people can't comprehend this, either," wrote one net user.
"Well, this is amusing," wrote another. "But if you are getting a boner you're sick."
"The fusion of 2D and 3D," quipped yet another.
There is an explanation: Japanese photographer and magazine editor Yasumasa Yonehara once told me that much of the outrageous nature of fashion (he was specifically talking about schoolgirl fashion) is based in Japanese "yanki" culture—in which you have people just trying to top each other. I think there is some of that all throughout Japanese culture, especially geek culture.