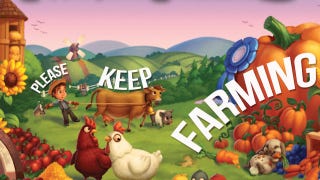 "What does a re-imagination of virtual farming look like?"
Something of a silly question on its face, and yet one that Zynga vice president of games Tim LeTourneau is fond of asking. Then again, what does a re-imagination of virtual farming look like? Do you farm on the moon? Must you plant crops while defending against waves of onrushing zombies? Or maybe you have to keep your family from starving, despite the bad economy and impossible new farm legislation?
It is, I suppose, unrealistic to expect FarmVille 2 to actually look like a true re-imagination of virtual farming. And yet as I sat in a a boardroom at Zynga headquarters in San Francisco, LeTourneau asked the question several times. He was making his pitch for FarmVille 2, the newest of Zynga's famous (or infamous, depending on who you ask) Ville games. The more we explored the question, the more interested, if not entirely convinced, I became.
Keep Playing. Keep Playing.
Here's my thing with Zynga games: Imagine you're in a world where people only say "yes." Nothing ever goes wrong, nothing ever breaks, the worst thing that happens is you have to wait a little while for whatever next thing you've ordered to come to you. Would you like more food? Sure! Would you like to have a better house, or a more well-decorated lawn? Awesome, it's all yours!
A compulsively positive design is a hallmark of Zynga's Ville games, a lineup that in addition to FarmVille includes CityVille, CastleVille, FrontierVille and of course, the legally contested, possibly copyright-infringing The Ville. None of those games have ever been that exciting for me, because while they may feature minor setbacks (for example, if you don't harvest your crops in time, they'll wither and you'll have to plant more) but in general, a as I play them, I can feel the underlying pull: Keep playing. Keep playing. Please keep farming.