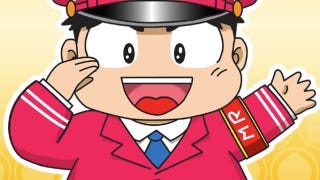 Japanese people have the reputation of not saying what they mean. That's not exactly accurate. Plenty of Japanese people are very good at saying exactly what they mean.

Yet, the Japanese game industry—and the country's corporate culture—often bent on stifling that. So people are happy to tell you how they feel in private, but worry about repercussions if they take those feelings public. Not Akira Sakuma, though. That guy is out of fucks to give.
For years, Sakuma toiled on Momotaro Dentetsu at Hudson. Momotaro Dentetsu is a popular train-themed board game style video game. While not popular in the West, the series was iconic in Japan. And when Konami bought out Hudson, Sakuma decided that he could not go on with the series. In short, he ended the series, even though he does not own the rights to Momotaro Dentetsu. Fans, however, probably don't want to play a Momotaro Dentetsu if the 60 year-old Sakuma is not at the helm with his longstanding collaborators.
Late last year, the reason why Sakuma said he would "end" the series was if Konami brought in new staffers and a new development team.