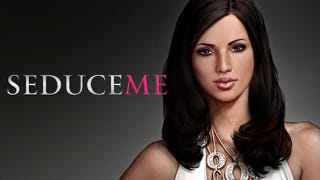 In theory, Steam Greenlight will let any aspiring game developer get their game onto PC gaming's hottest online marketplace as long as enough gamers vote for it. But that promise doesn't appear to apply to the makers of the erotic game Seduce Me. The game's listing was pulled from Steam's new Greenlight service last Thursday, the same day it was posted there.
The game's developers are crying foul, saying the removal of Seduce Me affirms the view of gaming as a childish pursuit.
Valve, the architects of Steam and the new Greenlight service have yet to comment.
UPDATE: "Steam has never been a leading destination for erotic material," Valve's chief spokesperson Doug Lombardi told Kotaku. "Greenlight doesn't aim to change that."
Greenlight launched last Thursday on Steam. It allows, in theory, anyone to publish a listing for a game they are making, complete with a text description, screenshots and videos. Steam users can then vote on which games seem to be the best. The winners get their games listed on Steam. Anyone who submits their game must affirm that they own it and check off which of the following categories their game is in: action, adventure, strategy, RPG, massively multiplayer, casual, simulation, free to play, racing and sports. (They must also agree to the Steam subscriber agreement.)