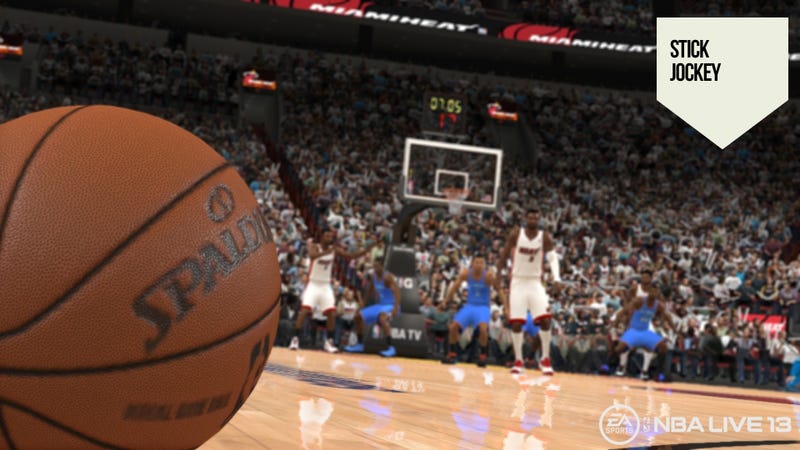 The rumor went around shortly after everyone got back from E3. I took a phone call from a person within the industry who knew I'd been down to EA Sports' Tiburon studio to see NBA Live. They asked if I thought it was going to be a digital-only release.

"What? No. That's ... dumb," I said, trying to find a reason why I thought it was dumb. The biggest one that came to mind was the fact that, if EA Sports is going to get back into the NBA simulation game, it needs its brand out there, on shelves for, let's say, less discriminating consumers like gift-buying moms and aunts who don't know what a world-beater NBA 2K has been. It drives 2K Sports bonkers, but it's a legitimate concern.
The bigger reason I couldn't fathom a digital-only release is because of the scope of what I saw down in Florida. There was a full-size team there—more than 70 developers. They were working on some complicated things in their presentation, some of which I agreed not to reveal until an embargo date passed but now, I'm wondering if it ever will. At any rate, it showed serious effort. A seriously expensive effort that you recover by selling it for $59.99.
Not $20, which is what a report this week said was a figure being given to buyers at GameStop's annual expo in Texas. And that's how I heard it going around the first time, too. Retailers were getting their hands on this information there, too, and when they're being told what they can and can't expect to sell, it's usually trustworthy information. I suppose EA Sports could be trying to court gamers who are willing to take a $20 risk, and do so impulsively with the click of a button, but it would seem to me they're going to do less business that way than with a product people can give as a gift.