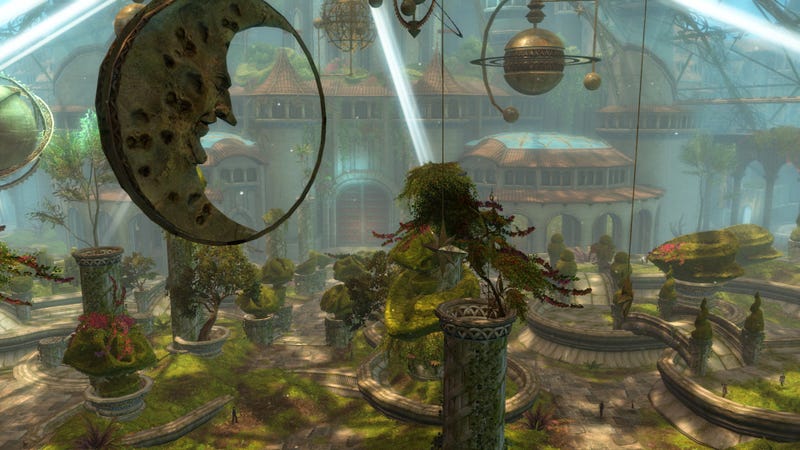 In just five days of play, Guild Wars 2 has managed to wreak havoc on my usually-sharp ability to make up my damn mind.

Those five days, beginning with Saturday's head start access, have seen me create one character after another. It's not because I'm dissatisfied with any of them. Quite the contrary, in fact. While the mage-types still lie outside of my comfort zone, playing my human thief and asura engineer feels like slipping easily into a second skin. Every one of those characters, though, has found herself standing in a part of the world fundamentally different from the others. Each one is in a different city, showing a different culture, a different history, and different priorities.

Five days, five alts, five stories to tell. It appears I will see every low-level area Guild Wars 2 has to offer, even if I despair of ever letting myself get to what comes later.

To understand what Guild Wars 2 has done to me, there is one crucial fact about my general play preferences you must know, and it has nothing to do with my strange history with the MMORPG genre. No, the most important thing to know about me as a player is that I put 100+ hours each into Fallout 3 and Fallout: New Vegas, explicitly because I could see on my compass and map that there were areas of the world I hadn't explored yet, and I was compelled to explore them all. I can't help it.
Guild Wars 2 has a very thorough map. On it, you can see not only the local points of interest, but also where quests lie, where skill points sit, and where quick-travel waypoints can take you. And on top of all that, there's the little red icon that has doomed me.
The little red icon signifies something called a vista point. As you walk around the world, you encounter little flapping banners, usually on the highest point in any given area. Get yourself to the top of the building, or the mountain, or the room, and you can trigger a panoramic cut-scene highlighting the area you're in. (It's very similar to the feeling of sending Ezio to the top of the nearest tower for a panoramic view of Rome in an Assassin's Creed game.)
I have developed a bit of a vista view problem, and I don't mean my tendency to forget that GW2 doesn't have Safe Fall. (Yes, I have splatted all five of my characters.) The map tells you exactly how many of these there are not only in each zone, but in the whole world. There's one just around the corner. Who cares if that area is level 15 and I'm still level 6? Surely, I can climb just one more mountain...
It's become a new variant Civ "just one more turn" sickness. Guild Wars 2 tracks and quantifies everything I do, so I know just how far I have to go and where the end goals are. 301 heart quests, 507 waypoints, 716 points of interest, 202 skill points, and 266 vistas. Surely the vistas can't be that challenging to collect. 200 and change, I must be able to manage it, right?
I have as yet completed fewer than 20 of them. And given how particularly tricky the ones in Asura areas are to get to, I think I have a very long road ahead.
Apparently if you build it, I will come.
While insatiably exploring the world, I've also come to love how different the stories and the environments for each character race feel. The art and architecture, from level one onward, convey the weight of Tyria's history. And the scale is extraordinary. Norn are half again as big as humans, and Asura barely knee-height, and yet the cities dwarf everyone.