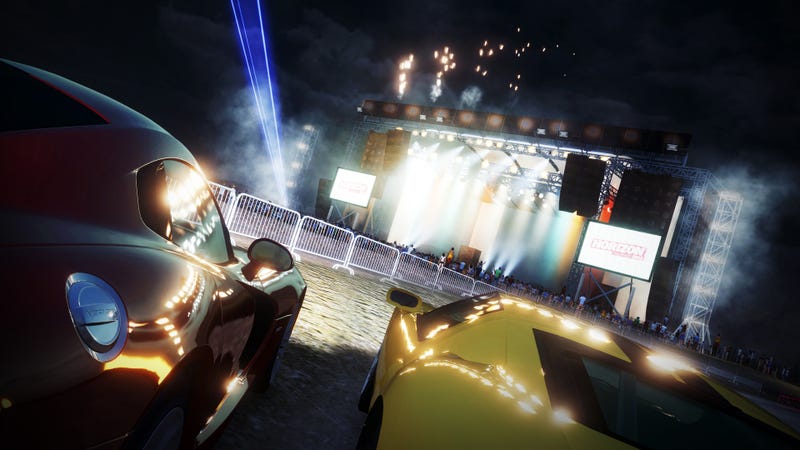 The next Forza game is set in an open world. Wait, what? Yes, it's an open world modeled after Colorado. And smack in the middle of the game's setting is a racing festival that you will partake in when Forza Horizon releases October 23 for Xbox 360.
This won't be all of Colorado, mind you. Developers Playground Games and Turn 10 Studios promise they've selected only the best driving roads to string together in an admittedly (and intentionally) geographically inaccurate way.
The open world is a new environment for a Forza racing game, but also an incredibly suitable one. You can pick which events you want to race in, and who to challenge next. If you want to win a new vehicle or build up points to enter the next level of difficulty in the Horizon event (and get a shiny new wristband to match), you can maneuver around the map to find the racing event of your liking.
But this is an open-world game, remember. So you can have fun on the way from point A to B. While driving to the next "mission" point, you can challenge racers who idly drive on your path. You can enter drag races once the sun goes down. Night time in fictional Colorado is the best. You can see fireworks and a light show going off at the event's main hub.
The hub, Race Central, is where you can pick up new quests and gear. With Kinect capabilities, you can even tell your GPS to guide you to your next destination. I know everyone likes to rag on Kinect, but it's actually a very fitting feature for a driving game. If you're fancy enough to have a car with voice recognition GPS, you'll be instantly familiar with this feature. The idea here is to keep you focused on the open world rather than busy scrutinizing the UI and map.
Forza Horizon really seems to have all the bells and whistles of an open-world game (fast travel included) but set in a racing simulation environment. I'm much more of an arcade racing gamer, but developers Turn 10/Playground Games have managed to turn what for more casual players always felt like an inaccessible genre—simulation style racing—into a more friendly version of itself.
But Forza Horizon still retains its heart, says the creative director, Dan Greenawalt. Forza is about falling in love with one car, and developing a relationship with it. In my roughly one hour of playing, I developed a bond with certain cars over others. Though I love American muscle, the mustang spun out of control way too much for me to handle. I opted for a sturdier-handling vehicle almost every time.
Forza isn't about turning a vehicle into a weapon. This is no Burnout or Need for Speed. Forza players are often fans of not just games, but cars. So while this new title introduces an open world and encourages you to explore it, it's still very much about building your car up. Visiting the shop to get it taken care of is part of the bonding experience with your vehicle.