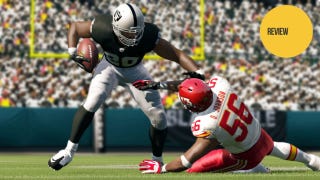 The question is asked every year and yet it seems irrelevant for a franchise with no competition: "Is this the best Madden ever?" It's a high and a low bar at the same time. Of course it should be the best Madden ever. They had a year to update and improve the last one, after all.
What longtime players of EA Sports' NFL franchise want, however, is a milestone entry. Something that says, "I remember when they put that in the game." Not a quarterback vision cone, or advanced playcalling, or Gus Johnson fulminating into the microphone, features that at the time sounded great but under a longer lens, don't pass the test of time.
Madden NFL 13 is a fundamentally better game than all of its predecessors, even if it should be surpassed by its next edition, and anything coming on the next generation of console hardware. Still, with the introduction of real-time physics—this is a contact sport after all—and an ambitious new online career mode, the game shows a sincere, admirable effort to transform itself, and to delight the football fan.
To recap, when I review a sports video game, I discuss 10 of its features in ascending order of how much enjoyment they delivered. Items closer to 10 weren't that much fun for me. Those near 1 were the real winning features in my view.
Others may have a different opinion, but here are
Ten Things You Should Know About Madden NFL 13
10. The run-blocking is still stone-age: This series, for the past four years, has made noticeable if incremental strides in its rushing game, from ballcarrier momentum to running animations to, this year, real time physics. And yet for the past decade it has annually whiffed on the most important part: the offensive line's blocking intelligence. You will have many controller-throwing moments where the tight end just flat ignores a headhunting cornerback or linebacker. Pulling guards are basically useless. Run-blocking intelligence is on one hand understandably complex to program. And on the other, it really isn't. Is your guard downfield with a ballcarrier behind him? Why isn't he shoving everyone within arm's length? Your linemen's failure to block, or to hold their block even until you reach the line of scrimmage, frequently reduces Madden to a game of down-at-first-contact, which defeats the purpose of the new real-time physics and all of the spontaneous outcomes it's supposed to deliver.
9. Diss-Kinect. See my earlier criticisms of the Kinect-enabled voice command functionality, but after playing the main game, my opinion has not changed. You're not naturally calling plays at the line of scrimmage, you're just using your voice to speak your way through menu options, which longtime players can navigate by hand much more quickly. Worse, it seems that in-game crowd noise coming over the speaker hampers Kinect's ability to recognize and deliver your commands. Yes, on the road in a hostile stadium, quarterbacks have a tough time changing the play at the line of scrimmage. The problem is Madden's Kinect suite doesn't provide much assurance your teammates heard anything you said.