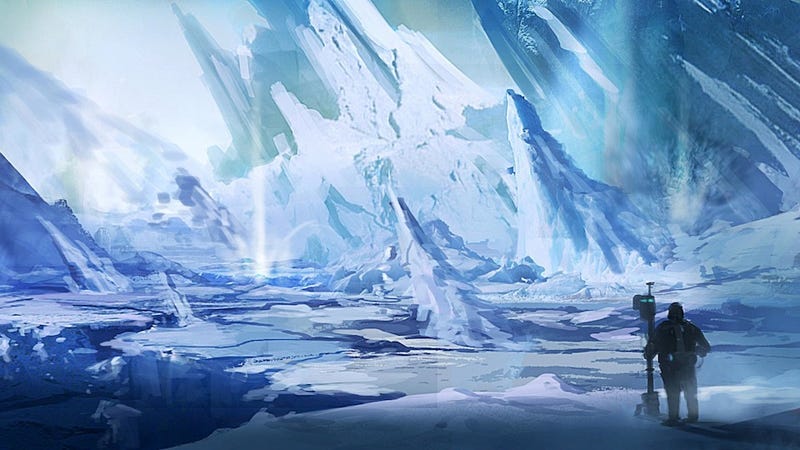 Editor's Note: Imagine that there are secrets about video games buried under the soil on which you stand. The mysterious person known as Superannuation wields a shovel; so please step a little to the left and see what Superannuation is digging up just for you...
According to a job posting for Lost Planet 3 [concept art pictured above] developers Spark Unlimited, the Los Angeles studio is working on a "3rd Person Episodic RPG title for current and next gen IOS platforms." The listing further describes the project as containing "single player and multiplayer turn based RPG gameplay in a widely accessible format" and "in-app purchases."
In addition to this mobile RPG and Lost Planet 3, Spark Unlimited is developing a mysterious console "Third Person Action/Slasher" that is Unreal Engine-based and features some sort of multiplayer component. Another listing on Spark's site mentions the title is "a bold new take on 3rd Person Action/Horror" and "based on an established console franchise."
While word of Spark's horror-slasher made headlines several months ago, the game only received the official greenlight last month. Although the combination of all of these elements led people to speculate this could be a Onimusha reboot, Capcom senior vice president Christian Svess wrote on the company's message board that he is "Not sure what [Spark's action-slasher project] is it but it isn't a project with us" — words that would seemingly preclude a game from a Capcom IP like Onimusha.
If Spark's franchise-based third-person hack n' slash horror title isn't Onimusha, what could it be if only a handful of franchises ostensibly fit that profile? A new Shinobi doesn't seem to mesh with Sega's current strategy. A Western-developed Ninja Gaiden or Tenchu is probably about as likely as Madden turning into Kinect dancing game. An externally developed re-imagining of Red Steel (heck, even another Red Steel game) or Dynasty Warriors appears equally unlikely. Konami already has a Castlevania title in Lords of Shadow 2. There are rumors of Crystal Dynamics-developed Legacy of Kain reboot, but that franchise does make a bit of sense.