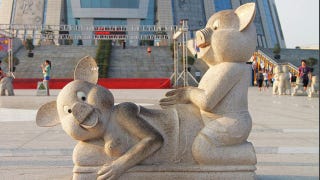 Get your mind out of the gutter! Just because one pig is flashing a pig boob and another pig seems to be...that doesn't mean you are looking at sculpted stone porking.

Located in Zhengzhou, this Chinese statue is making many blush. According to ShanghaiIst, some are even calling it "vulgar" and dubbing the piece "hooligan pigs".
The urban management authority told the press, however, that the sculpture shows a young pig giving his mother pig a back massage, depicting filial piety.
The controversial statue is part of a 21 piece series of cartoon sculptures aimed at children and created to impart values, such as filial piety, perseverance, and love.
This is the second statue in China this month to raise eyebrows online. Recently, an enormous celestial maiden statue in Xinjiang province drew internet ire and was eventually taken down.