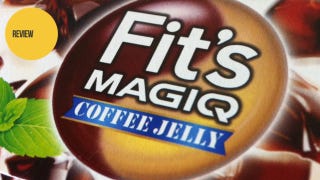 Ask any certified snackologist, and they'll tell you: Yes, coffee has successfully been integrated into countless snacks and sweets. But this chewing gum isn't just coffee flavored. That would be old hat to a snackster like me. We've been there. Oh no, this is coffee jelly flavored chewing gum. But does this desert favorite work in chewing gum form? Sugar friends, let's find out.

In Japan, coffee jelly is a gelatin treat. The jelly tastes like black coffee, so it's served with either cream or sugary syrup. During summer, ice-cold coffee jelly—with its interplay of bitter and sweet—hits the spot. And a cultural snackologist like me knows just how iconic this tasty treat is in Japanese diners and cafes.
So when I saw Fit's Magiq Coffee Jelly in my local snack haven, I was intrigued—slightly disgusted—but intrigued. Disgusted? Oh yes. See, so much of what makes coffee jelly a taste sensation in summer time is the chilly temperature at which it is served. How can a gum pull that off? I feared that this could be the snack equivalent of flat, warm beer.
But this isn't any gum. Oh no, this is Fit's Magiq. "Magiq" because it will pull off all kinds of tricks in your mouth. Most recently, Fit's Magiq released Dragon Quest Slime flavored gum. But that's boring when there's coffee jelly to chew and ponder.