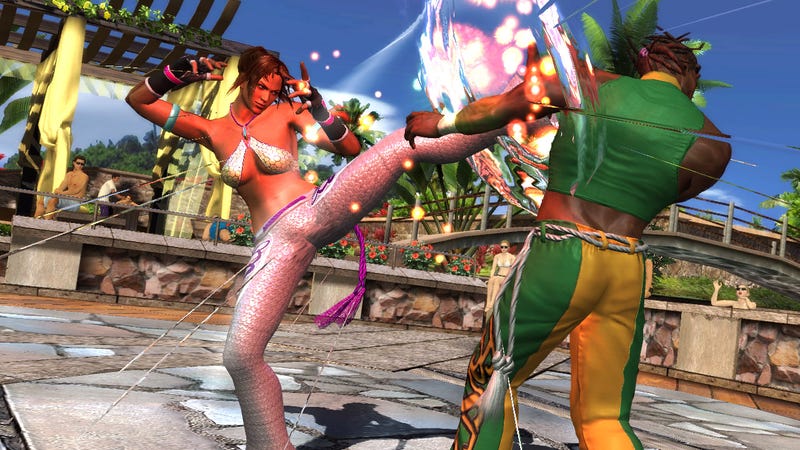 Tekken Tag Tournament 2 feels a bit like a best-of album. Almost everything likeable about Namco's fighting game franchise is on prominent display in the sequel. Dancing pandas, overdone intra-family fisticuffs and deep, varied movesets all unfold beautifully animated backdrops. There's a huge cast of playable characters, too—with cult favorites returning and new warriors debuting and even more on the way as DLC—and multiplayer that supports up to four players. It's definitely a kitchen-sink kind of affair.
I've always enjoyed Tekken more than other fighting game series and while I don't have pro-levels skills by any stretch of the imagination, the experience of sitting down with a preview build of Tekken Tag Tournament 2 felt really familiar. Don't expect any impressions about online play, though, as I'm only allowed to talk about my experiences with the offline modes.
You can play solo in TTT2, and that can mean just one-on-one mano-a-mano action or you squaring up against a pair of opponents. Arcade and Ghost Battle modes replicate the experiences of the past, with the former culminating in boss battles and the latter pitting you against the uploaded profiles of players around the world.
The Combot training in the Fight Lab mode is a significant addition to the single-player experience. It starts off as a simple tutorial exercise but once you finish up the stages, you can go in a Tuning option, which lets you purchase attacks from other characters' movesets. That means you can have a sweeping leg kick from Xiaoyu, a dunk punch from Craig and a spinning dive kick from Armor King all assigned to one Combot. This allows for a truly unique repertoire for your Combot and you'll be able to use it as a character in some Versus mode play.