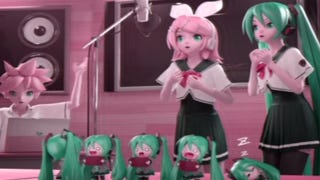 Hatsune Miku, the virtual idol, is truly a star in Japan. From a lowly beginning as a piece of music composition software, she now does everything from TV commercials to live concerts via hologram—in addition to "singing" thousands of fan-made songs across the internet. Since 2009, Miku—and her many virtual idol friends—have starred in a series of games spread across the PSP, PS3, 3DS, iOS and arcades. With the first Vita iteration in the series, Hatsune Miku: Project Diva F, coming out in Japan later this month, now is the perfect time to explore last year's iteration, Hatsune Miku: Project Diva Extend, to get a glimpse of what this series is all about.
Good — Tons of Catchy Tunes From Across Many Genres
Made using the Vocaloid 2 software, licensed Miku artists have made thousands of original Hatsune Miku songs. Among these, 42 of the most popular appear in Project Diva Extend. While
many of these have appeared in past Project Diva titles, 12 of them are completely new to the series.
The music in Project Diva Extend comes from many genres. Some are slow, some are fast—and some couldn't be sung by a normal human. So while it is doubtful you will like every song, you will find more than a few that you will enjoy playing.
Good — Challenging But Rewarding
There are only a few unlocked songs at the start of the game. After successfully completing each song, a new one is unlocked. But this is not the only unlock that occurs: the song's background
music video, in addition to new items and costumes, are unlocked and can then be purchased in the game's store. Even better, there are unlockables specific to each of the game's difficulty levels which provide an extra reason to keep playing beyond the music. And as challenging as the harder difficulty levels are, even for music game veterans, this proves to be a great incentive.
Good — Make Your Own Music Videos to Your Own MP3s
The feature that sets the Project Diva series apart from other music games is its edit mode. In edit mode, you are able to make your own custom music videos using parts of the amazingly
well done music videos you have unlocked in single player. Moreover, you can even make music videos for any MP3s you put on your PSP memory stick. So if you ever wanted to see "Call Me Maybe" with Hatsune Miku, Project Diva Extend gives you the tools to do so.