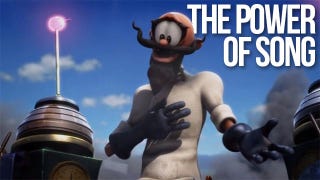 Sure, we've got musical video games. But we've yet to have a real video game musical, a game that brings the goofy, earnest energy of musical theater onto a console or PC and lets us play our part.

For a long time, it's felt like an inevitability—people love musicals! They love video games! Who wouldn't want a musical game? And yet one hasn't yet emerged—the Glee karaoke game for Wii felt like the closest thing we had. (Needless to say, that wasn't quite what I was looking for.)
Two upcoming games, both of which may well be video game musicals, have caught my attention, albeit in very different ways. One comes from a source you might expect, and the other codrames from the wide world of independent video game development. Both seek to tell a story through puzzles, exploration, and glorious song.
It's no surprise that Disney is working on a game that's more or less a video game musical. After all, Disney has given us some of the great animated film musicals, and they've got an incomparably rich musical history. So when I first saw the super enjoyable opening cinematic to Epic Mickey 2: The Power Of Two, I couldn't help but wonder: Is Disney finally making a full-on musical game?