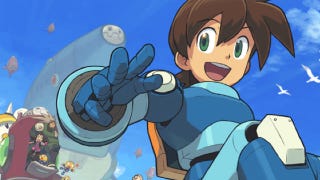 Earlier today, Capcom announced a new Mega Man game. Usually if Capcom announces a new Mega Man game, I'd do a proper post. But no, not for this game. It's not a proper Mega Man game.

Instead, Capcom is releasing a Mega Man social game for iOS. Look, social games are fine. iOS games are fine, too. This could be the greatest social role-playing game iOS has ever seen. But let's face it, I do not want a social Mega Man role-playing game. You probably do not want a Mega Man social role-playing game. Nobody in his or her right mind wants a social Mega Man role-playing game.
Capcom is throwing us scraps, breadcrumbs. After the disaster that was Mega Man X for iOS and after canning Mega Man Legends 3 (and Mega Man Universe, too), Capcom seems to be scrambling. It's got the Mega Man brand, so why not make a social game?