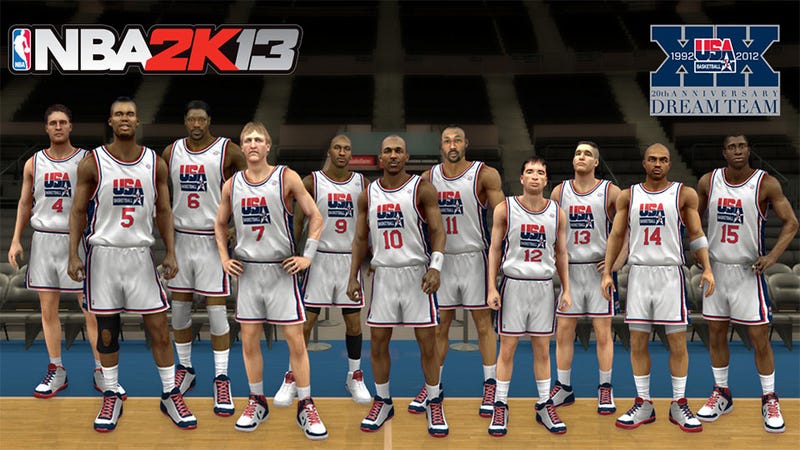 When Kobe Bryant hypothesized that the 2012 U.S. Men's Basketball Team would beat the 1992 squad—the original Dream Team—Michael Jordan just laughed. Charles Barkley said only three players from the current team could have cracked their roster.

Video gamers can settle it for themselves this October when both squads, in their United States Olympic uniforms, appear in NBA 2K13. And yes, that means Barkley is at long last returning to a video game.
"I think it's going to start more arguments than it ends," Jordan said in an appearance arranged by 2K Sports, for whom he's been an endorser since 2010. "I don't think it's every going to end because we'll never know. The only way for it to end is to lace 'em back up and play in this game in 2012."
Considered by many to be the greatest collection of talent in any sport, the Dream Team was the first U.S. national basketball team to use professionals. Its sole purpose was to reassert American dominance over the sport invented on its soil. And it did, winning eight games in the Barcelona Olympics by an average of 44 points.
Eleven of its 12 players and three of its four coaches were later elected individually to the Naismith Memorial Basketball Hall of Fame (the team itself was enshrined collectively in 2010). Its intrasquad scrimmage shortly before the 1992 Games was called "the Greatest Game Nobody Ever Saw."
All but two of its members were already among the all-time greats NBA 2K12 assembled for its "NBA's Greatest" retrospective last year. Barkley, the Dream Team's leading scorer, was not one of them, making his signing this year the linchpin to the Dream Team's video game return. (The team starred in Team USA Basketball on the Sega Genesis in 1992.)
Jason Argent, the 2K Sports vice president of marketing, said that bringing in hip-hop superstar and entrepreneur Jay-Z to be the game's executive producer both drove the necessity for bringing the Dream Team to the game, and the discussions with Barkley to license his appearance in it.