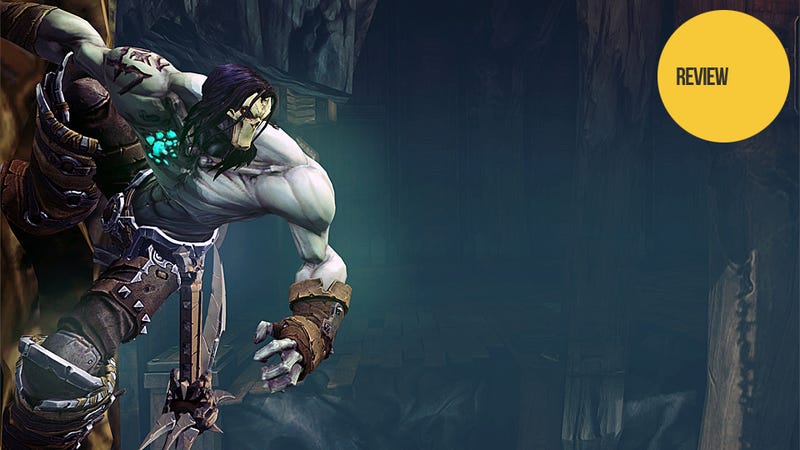 I am become Death, destroyer of crates.
Also vases. And skeletons. And bees. And, oh yes, enormous slavering eldritch horrors from Hell. I destroyed a bunch of those, too.
Darksiders II begins more or less where the first Darksiders left off. In that game, War—as in, the apocalyptic horseman—accidentally triggers the Armageddon before the correct moment and everything, more or less literally, goes to hell. But it was a set-up; other powers used War for their own ends and he is, if not blameless, at least not as guilty as other parties think. Darksiders II stars War's brother and fellow horseman, Death, as he attempts to set the record straight and redeem War's good name. Doing so mainly involves going places and killing everything that lives there.
Plot-wise, the game never does make any more sense than that. But that's okay. It's the video game version of the summer popcorn flick, and that's not a bad thing.
WHY: Because although the game is entertaining and fun to play, the sheer number of bugs encountered in the PS3 edition really need a patch. We're waiting for confirmation on if the Xbox 360 and PC versions are plagued with the same issues or not.
---
Darksiders II
Developer: Vigil Games
Platforms: Xbox 360, PS3, PC
Release date: August 14
Type of game: RPG-inflected platformy action killfest
What I played: The entire story arc (without any side quests), in < 25 hours, on PS3.


My Two Favorite Things
Mid-and late-game combat is extraordinarily satisfying if you happen to enjoy being a madly cackling whirlwind of death.
The scope and scale of both dungeons and overland realms. Death is a big guy, and the Forge Lands make him look tiny.
My Two Least-Favorite Things
The mad proliferation of occasionally game-stopping bugs.
The rule of threes gone amok. Recruit three lords, but to get one to come with you you'll need to perform three tasks inside his dungeon... at a certain point it becomes Threeception.
Made-to-Order Back-of-Box Quotes
"Since when is there such a cartoony-looking God of War ga—oh." - Kate Cox, Kotaku.com
"This is the first game I've played in ages that puts cut scenes in places where quicktime events could go." - Kate Cox, Kotaku.com
Darksiders II needs you not to question its internal logic. Much of it is, at best, strained. While playing, I had several conversations, like:
"I have to go to the land of the dead."
"Aren't you Death?"
"Yes."
"So isn't that your..."
"No."
"But..."
"This is one of those questions you shouldn't ask."
"So you're invincible in this game, right?"
"Nope. That's my health meter, and I have potions."
"But if you die, who kills you? And when you do, does everyone else become immortal?"
"Remember what I said about questions?"
Much in common with certain blockbuster films, it can be a delight to watch as long as you don't look through the logic holes. The game makes a covenant with you: if you promise not to think about any of it, it will provide you with the tools you need to travel, and the reasons to keep pressing onward.