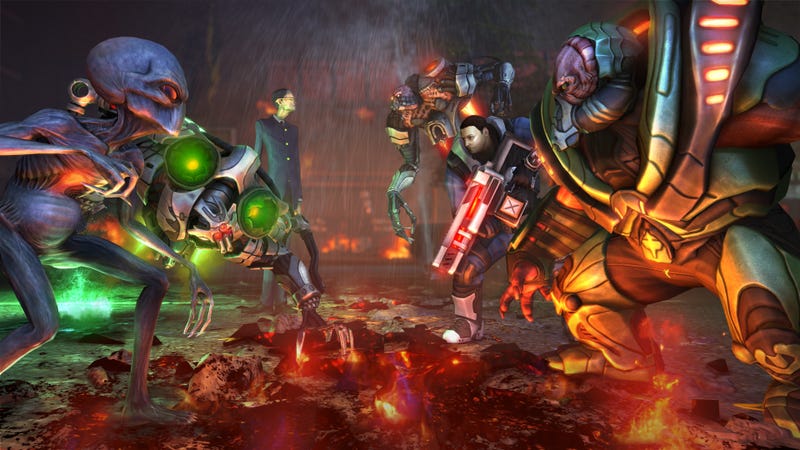 Last week, I was invited to spend some time at Firaxis to see the new XCOM. Early Wednesday morning, I hopped in the car and braved the DC morning rush to wind my way to an unassuming office building just north of Baltimore.
XCOM: Enemy Unknown is many things. It is a strategy game, about base-building and resource management. It is a turn-based, tactical, squad based combat game. It is a delightfully, chaotically mismatched multiplayer romp. It is a modern-day remake of one of the most famous and popular PC games in history.
And after my time at Firaxis last week, I can finally say: XCOM: Enemy Unknown is a hell of a lot of fun. I had such a good time that I don't even mind that I got dinged by a speed camera while getting mildly lost on my way home.
Well, I don't mind much. I'll just tell myself to think of that $40 as my deposit on the game.

The basic premise is straightforward: Aliens are attacking. They are not nice, cuddly aliens. They are the "kill all humans" kind of aliens. Your job is to stop them. The execution of that premise, though, is anything but simple.
XCOM is a game about balance. There are no perfect decisions, and a player whose goal is to make the absolute right choice every time will find herself sorely disappointed. No: there will never be enough money or enough time to make everyone happy. The commander of humanity's last line of defense—for that is your role—needs not only to balance research and construction priorities in the home base, but also to manage the delicate balance of politics. Every turn, every decision, and every dialogue is, in some way, a compromise.
In fact, the game holds one, and only one, final, terminal, "GAME OVER" lose condition. It doesn't trigger if you get your squad wiped out and fail a mission. It triggers when eight member nations leave the council that gives XCOM its authority. Given the intricate dance of managing member states' panic levels, it is unlikely at best that you will survive the full story with no defectors at all. And when a nation goes? It takes its resources with it.
Firaxis is a studio known for its strategic PC titles (like the Civ V I can't seem to stop playing). The original X-Com is one of the most famous PC games ever made. So I was deeply surprised, when our hands-on time with the game began, to be ushered to an array of slim black consoles and handed a familiar-looking white controller.
XCOM on Xbox? I had my doubts.
For the first ninety seconds of the first combat tutorial, they seemed to be borne out. Getting my squad to go exactly where I wanted them to was a pain. Until, very suddenly, it wasn't a problem anymore. By the time I was five or ten minutes in, the controller felt as natural as breathing. I am emphatically not a natural console gamer (my fingers live on WASD, but my thumbs are still clumsy, despite near-daily practice). To find a PC game feeling perfectly arrayed for controllers is not something I would ever expect. I am not the first to make this discovery, and yet I found it startling all the same.