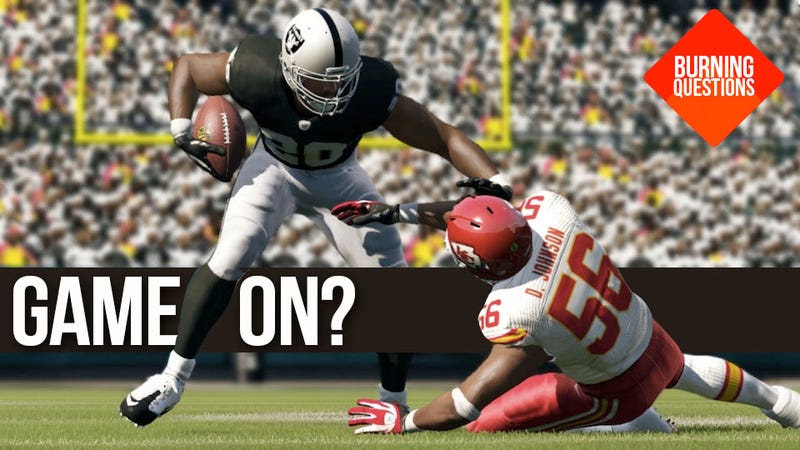 Sometimes it feels like gaming has two camps: Those who play sports games, and those who don't. It's not unlike the jocks and nerds in high school, really. Could non-sports gamers find something to love in sports games? Should Mass Effect players give Madden a shot? How do sports tell stories, and how are story-based games like sports? And what would a Friday Night Lights video game look like?
Someone get a fire extinguisher! Those are some… Burning Questions.
Jason: Hey Kirklbro! Sure has been a while since we've done a Burning Questions. We tried to do it live in Kinja, but that didn't work so well for a number of reasons. Before that, when was the last time we did this? Pre-E3?
Kirk: Hi Jasonbro! Hmm... I think the last time we did a Burning Questions was in like, 1979. In other words: A long time ago. Maybe our questions over the last few weeks haven't been all that Burning?
Jason: Maybe they haven't!
So today we're going to talk about sports! (This is where half of our readers immediately close the page.)
Kirk: Yes, sports! It's funny, there's always this apologetic vibe when video game people write about sports, isn't there? Like, "Oh, sorry, we're going to talk about sports. But it'll be fun! Don't go!"
Every football game, every basketball game has a narrative. Seasons have narratives, teams even have narratives, narratives that span decades!
Jason: There's definitely a stigma. At the risk of biting into stale stereotypes, maybe it's that whole geek/jock high school mentality that draws clear lines between People Who Play Sports and People Who Play Video Games. Do you think those lines exist today?
Kirk: It's hard to say beyond my own personal experience, but there's definitely a very different social component to watching sports than there is to playing video games. The times when I've watched sports regularly, I've always done it in a group, you know? It's a much more social thing.
Jason: Well first of all, let's distinguish between playing sports and watching them.
And then maybe we can get into that glorious hybrid, sports video games.
Kirk: Owen is going to read this and get so mad.
Jason: I heard he secretly hates sports.
Kirk: If I knew that much about the inner workings of Madden, I might hate sports too.
Jason: Ha. So. Social experiences. One of the big reasons people go to live sports events is to be with their kin, cheer among people who share their passion for a given team. There's this sense of community there. Like, we might all sitting around at a stadium thinking "woohoo, everyone here loves the Jets. I'm among friends." You're all there because you really care about that team, not because you care about one another—as opposed to, say, playing video games with your friends, which you do less because of the games themselves and more because you want to do something with people you enjoy.
Kirk: That's true—though as I found when attending a Barcraft event in San Francisco, sometimes they do that for video games too. But pro StarCraft is the exception, and there's still not quite a tradition around it like there is with, say, Sunday Night Football. I gather that's one of your favorite days of the week, right?