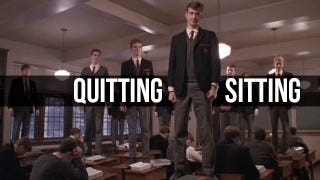 It's not every day you discover a whole new way to play video games. Yet over the past month, I've done just that—I've found a way to play games that makes me feel better, more alert, healthier, and more involved. How have I accomplished this? I've started playing video games while standing up.
"Oh, damn it," you're probably saying, vigorously tapping a fresh pack of cigarettes on your palm while gazing into the middle distance, "Another article about the perils of sitting."
And yeah, that's what this article is. But really, it's just my story—I didn't anticipate how much I'd like standing, so I thought I'd share the story of how I came to start playing video games (and working) while standing up.
***
Since I started working for Kotaku full-time a year ago, I've found myself sitting a lot more than I used to. I spent seven years as a music teacher, and I used to bike to school every day and spend a few hours on my feet in front of a class, directing a band. My day-to-day didn't feature all that much sitting! I also had a more flexible schedule, and would run in the park just about every day. What sitting I did was broken up by long periods of standing, walking, running and bike-riding.
When I started writing full-time, that changed. I don't have time to run most days—I spend my shift sitting in front of a computer, and when I'm reviewing a game, my nights are spent playing it. During the 2011 fall video game rush, I found myself sitting down for 12 hours or more with minimal standing breaks, often for days on end.
Every day, it seemed I saw another article about the perils of too much sitting. Sitting is bad for you. Sitting for more than 11 hours a day greatly increases your chances of dying in the next three years. Exercise won't counteract it, either—sitting is, itself, a damaging thing to do to your body. But really, I didn't need to read those studies—I only needed to listen to what my body was telling me.
My energy levels had plummeted. My digestion felt weird, and I was never hungry. My legs would ache when I'd stand; they'd feel swollen and "off" somehow, like they weren't getting enough blood. My lower back became more prone to painful freakouts, especially when I'd sneeze. Basically, everything from my ribcage down was asking me, repeatedly, "Dude, what are you doing?"
My body did not like my new lifestyle.
At the same time that I'd seen all of these articles about the dangers of sitting, I'd also seen more and more people talking about the merits of standing desks. I began to read. Here's what I learned: