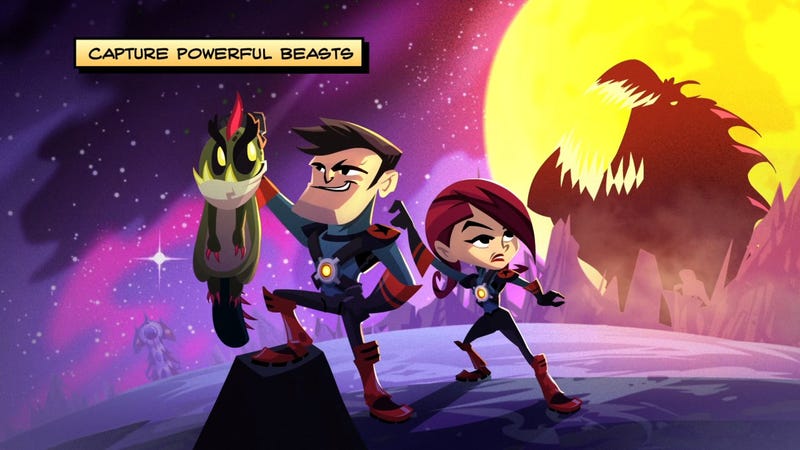 If you buy the argument that there are people who make real video games and there are people who make things that merely pose as video games—and if you are convinced that these fake "games" threaten to undermine real video games—then a game called Outernauts should have filled you with hope.
Outernauts is a science-fiction video game about a spaceman (or spacewoman) and lots of monsters. More importantly, it was made by Insomniac Studios, an American game studio which is not some motion-game-making, Facebook-app-designing creator of games you can't lose. These are the kinds of people who make first-person shooters and action games that are full of jumping and rocket launchers, games you pay $60 for, not the kind of games that permit you to progress only if you wait, pay or spam your online friends with requests to send you some virtual tomatoes.
Insomniac is a studio that makes the Resistance first-person shooters for the PlayStation 3, invented Spyro: The Dragon and has produced a pile of well-regarded, eye-popping, action-packed Ratchet & Clank games. They make games that are controlled with video game controllers. They make games you can lose at. Even the snobbiest of critics would say Insomniac makes "real" video games.
So Insomniac made a Facebook game. That's what Outernauts is. This maker of so-called "real" video games made a Facebook game, and guess what it's like?
Outernauts is, yes, a science-fiction video game about a spaceman and monsters. It lets you explore strange worlds, poke around for treasure and fight lots of enemies in turn-based battles. (You can try it on Facebook yourself.) It plays a lot like Nintendo's pet-monster-battling Pokemon series, and…
Well…
This studio that makes $60 PlayStation 3 first-person shooters and true-blue console video games made a Facebook game that does the things that the notorious number-one Facebook game studio in the world—the currently-embattled Zynga—is not exactly loved for: