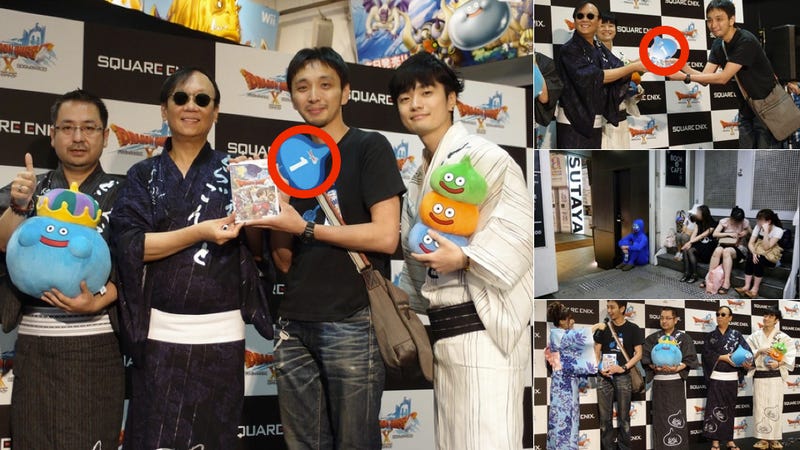 It finally happened. For years, Japan has been waiting for the latest Dragon Quest game, and yesterday, it launched. Anxious gamers lined up in droves to purchase the title. In Shibuya, there was a special countdown event at retailer Tsutaya for the game. The first person in line appeared on stage and received his purchased copy directly from DQ creator Yuji Horii. What a wonderful way to get the game.

But what if he wasn't really first? What if this whole special event was staged? Fake? These are the questions swirling around Japanese cyberspace.
The first person in line was 33 year-old Kensuke Matayoshi. It was his face splashed all over the Japanese newspapers. It was Matayoshi who was interviewed on TV. According to the Japanese media's coverage of the event, Matayoshi, who was listed as a temp worker, waited in line for 24 hours for Dragon Quest X. It could be true that he does temp work.
What the media didn't say was that Matayoshi is also a struggling actor. He's not famous by any means, and nobody in line knew he was an actor. His identity wasn't known until Japanese forums started digging around, pulling up his talent agency resume. So he's an actor? So what? Thing is, Matayoshi apparently didn't wait 24 hours for Dragon Quest X. Some are wondering if he wasn't a plant.
And the countdown went off without a hitch.
Japanese site Rocket News sent one of its editors—a guy named Mr. Sato—to the DQX countdown event dressed as a Slime. Rocket News states that at around 1pm the day before, a group of women got in line at the DQX countdown event. Later, they said that they were the first people in line—that there was no sign of Matayoshi. At around 7pm, Rocket News showed up and Mr. Sato got in line. Even though they were first in line, the young women were camera shy and did not want to appear on stage. So, they apparently told Mr. Sato that he could be first in line. (You can see photos of him first in line right here.)