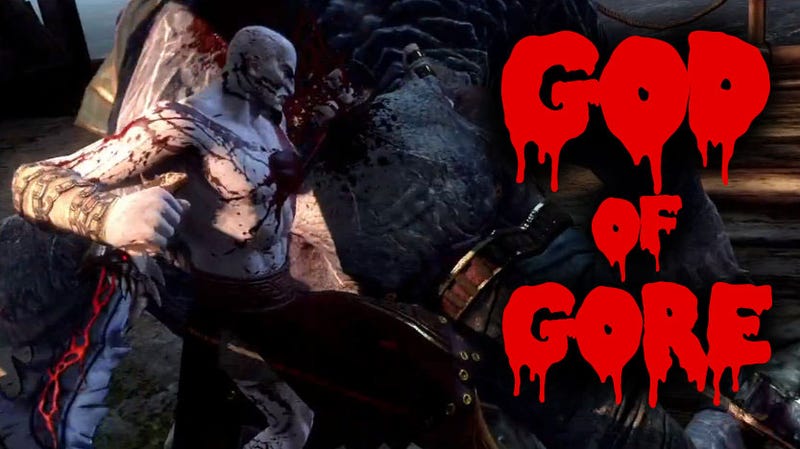 After our hero Kratos wrestles the elephant monster in God of War: Ascension to the ground, he—you—can make him stab the creature in the head. You can make him stab repeatedly. Then, at your command, Kratos slits the head open to reveal the monster's brain.
"That's too much," I blurted out, when David Hewitt, the design manager at the Sony studio making Ascension for the PlayStation 3 played the scene in front of me.
I could almost hear his eyebrows arching. Oh? That's too much?
God of War is a series about an enraged Spartan general who becomes an enraged killer of gods and titans. It is the bloodier version of bloody Greek mythology. These games let us virtually stab a Cyclops in the eyeball and rip the heads off Gorgons. When Kratos isn't a butcher, he's kicking blocks to solve puzzles and grunting through extravagant sex scenes (just one of those scenes per game in the five-game series, so far; and, for the sex scenes, the camera mostly turns away).
God of War is a game of violence, played for the satisfying feedback of executing complex combination-attacks and/or for the thrill of ripping the wings off of harpies. It's a series of above-average game design and nasty violence.
Cutting that brain out is too much?
The brain scene climaxes a seven-minute sequence from God of War: Ascension that was first shown to the public last month when it was played live on stage at a massive, live-streamed Sony press conference. The demo, ending in that scene, was cheered.
"I think there's an emotional release in it for people," Hewitt told me. "At the Sony press conference, you saw a lot of broader-appeal, less-violent titles-[such as] Wonderbook and Beyond-and I think that when you got to The Last of Us and God of War Ascension, I think there was a group of people in the audience who were really pleased to see that 'this is really gamey stuff', 'this is a real experience.' And there was a release. There was an emotional kind of cheer of, 'Yeah, let's get that elephant's brain out of its head,' which hadn't been the tone of the conference so far."