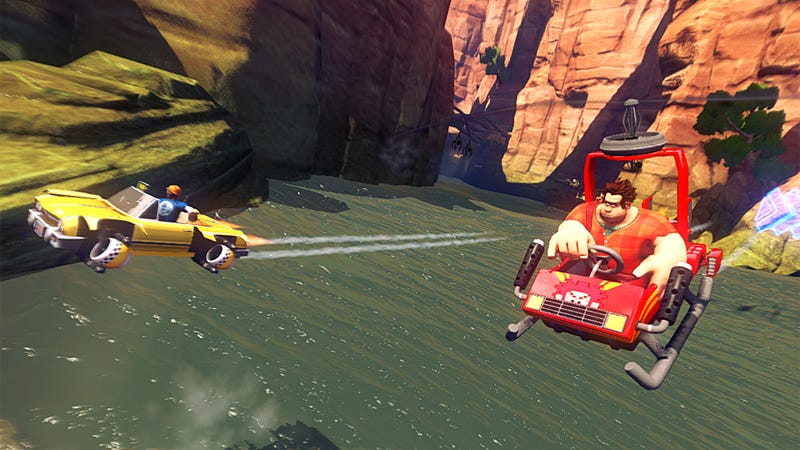 Sega recently announced that their upcoming game Sonic & All-Stars Racing Transformed will feature the titular hero of Disney's November film Wreck-it Ralph as a playable character. The movie's director, Rich Moore, calls it a "dream come true" that we can see "Wreck-It Ralph in a real video game alongside Sonic and other iconic Sega characters."
In one way, it's just another blurb about self-congratulatory corporate marketing. Get a brand-new video game movie character into a known video game franchise coming out about the same time the movie does, and increase brand awareness about both the game and the film. Great. That's how these things work. Tie-ins are nothing new under the sun.
But the story is more than just the newest Sonic racing game. Disney is reaching far and wide with Wreck-it Ralph, and while it's hard to blame them, the outcome is almost sinister. Disney stories are core to many American kids' childhoods. They're part of our cultural consciousness. And with the way they are pushing Wreck-it Ralph, Disney is now trying retroactively to rewrite the childhoods of those of us who have already grown up.
Wreck-it Ralph is itself a pretty clever idea for an animated feature. The film features a top-notch voice cast, and hearkens back in many ways to the brilliant Who Framed Roger Rabbit?. Instead of bringing the world of cartoons together in the golden age of Hollywood, it brings the worlds of video games together under the beeps and bells of a classic arcade. And much as the latter movie invented Roger Rabbit, and set him among his more well-known Disney and Warner Brothers brethren, Wreck-it Ralph has invented a character in order to set him among his better-known Sega and Nintendo cousins.
Of course, to invent a video game character, Disney has had to invent a game for him to come from, and that game is Fix-it Felix. The "long lost" arcade cabinet for Fix-it Felix showed up at E3, straight from 1982 (nudge nudge, wink wink). The game, of course, is also available on the website and for iOS devices.