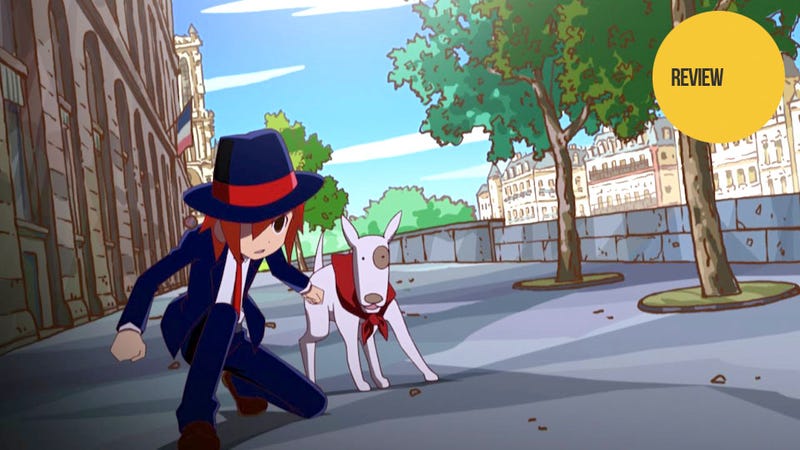 It's midnight in Paris, and the fate of the world hangs in the balance. A fearsome dictator has come back from the grave, secret treasures of untold power have been unearthed, a girl is in trouble. Nothing left to do… but dance, dance, dance!
That's about the sum of Rhythm Thief and the Emperor's Treasure, a new 3DS game from longtime Sonic The Hedgehog designer Shun Nakamura. Sound silly? It is. It's also a hell of a lot of fun.
Rhythm Thief tells the story of Raphael, a young redheaded Parisian who, like many of the characters in the game, distinctly lacks anything resembling a French accent. Raphael has a secret—at night, he dons a blue suit and a cool blue hat and moonlights as "Phantom R," an infamous art thief. (Note: The characters who do sport Frahnch Accahnts have about as much fun pronouncing "Phantom R" as you'd think.)
(Second note: Raphael's friend and trusty companion is his dog, named — what else! — "Fondue." (Sample Fondue dialogue: "Woeuf."))
---
WHY: Rhythm Thief and the Emperor's Treasure's enthusiastic charm, lovely art and fantastic soundtrack make it stand out amid gaming's growing stable of creative music games.
---
Rhythm Thief An The Emperor's Treasure
Developer: Sega
Platforms: Nintendo 3DS
Release Date: July 10
Type of game: Story-based music game featuring a bunch of different rhythm games, musical puzzles, and hidden collectibles.
What I played:Completed the single player story in about 5 and a half hours, went back to play many of the music games many more times.

My Two Favorite Things
The exceptionally grooving soundtrack, which is more fun than a barrel of chorus-line-dancing monkeys.
A couple of melodramatic and yet truly moving moments fuse gorgeous animation, lovely violin playing and shameless Disney-style direction.
My Two Least-Favorite Things
The collection aspects and minigames are inconsequential at best, tedious at worst.
A couple of big moments in the later part of the story seem rushed, or like they're missing a key moment. Things can be confusing, or unsatisfying.
Made-to-Order Back-of-Box Quotes
"I played it, I beat it, I really want to buy the CD."
-Kirk Hamilton, Kotaku.com
"The only thing more varied than the minigames are the bizarre accents."
-Kirk Hamilton, Kotaku.com
"Finally, a game that proves emo hair makes for a fantastic disguise."
-Kirk Hamilton, Kotaku.com

Are you on board yet? The story of Rhythm Thief is told through charming if occasionally nonsensical animated cutscenes—Raphael is looking for his father, and in the process of doing so uncovers a plot to reanimate Napoleon Bonaparte and use a superpowered ancient artifact to rule the world. Okay! He also meets Marie, a lovely young busker who plays the violin. See, her fate is intertwined with his. And maybe that violin will come in handy…
Rhythm Thief could have been a stealth/action game, or a platformer, but in fact, it's a music game. The game oscillates between two modes—exploration of Paris and 30 different rhythm-based minigames. The rhythm games are the heart of Rhythm Thief and with a few exceptions, they are fun. The games replicate the stealthy tricks Phantom R must use as he infiltrates various famous Parisian buildings. Breaking into the Louvre involves first using the 3DS stylus to match dance poses to statues in order to hide from guards, then fighting off some enemies by tapping the face buttons in time, then bouncing buttons in time to aid a rooftop escape.
There are over 30 rhythm games in all, and while several repeat throughout the 5-6 hour story, they never get old. For the first several hours of the game, I couldn't wait to get to the next challenge. Just when I'd think I knew what's going to happen next, the game would throw a dog-biting game or a stylus-based violin challenge at me to change things up. Some of the purer rhythm games (particularly the combat games) feel more than a touch like Nintendo's incredible Rhythm Heaven Fever, though nowhere near as varied or difficult.