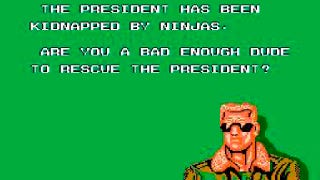 For nearly a quarter century, this video game has posed the ultimate hypothetical question of one's manhood: Let's say, perchance, the head of government of the United States of America is abducted by masked assassins: Do you embody the qualities of a highly motivated, results-driven person who can effect his safe return?
If Joe Modzeleski and his Michigan-based Pinstripe Games team can secure the funding for the game they have planned, they won't need that kind of tortured rewrite of the hilarious opening to 1988's Bad Dudes. They already have a licensing agreement in place, with the current rights holder, to develop Bad Dudes 2, the successor to Data East's beat-em-up that has become even more well known as an Internet meme 24 years later. They envision the sequel for PC and Mac release.
Kickstarter is full of pie-in-the-sky projects begging for attention, but what grabbed mine about Bad Dudes 2 is not, well, the fact it's a sequel to Bad Dudes, which makes a weekly appearance in the reader submissions to the Kotaku 'Shop Contest.
It's the fact that, when I asked Modzeleski if his team already had permission to make this game, or was simply raising money in hopes of getting a license from G-Mode, the Japanese mobile games publisher that owns the title, Modzeleski didn't hesitate in correcting me: "We have the rights to the IP, we have the rights to develop the sequel," he said, "but we will have additional fees once it is released."
This is unusual because serious Kickstarter video game projects that reference well known series are typically begun by those who own the rights to the series. Even established enthusiast programmers, like Exploding Rabbit, behind Super Mario Crossover or Dave Murray, trying to make a "Tecmo Bowl MMO," haven't sought official licensing from Nintendo or Tecmo to make fully commercial versions of their ideas, even though they trade heavily on the attachment to those games. They've chosen to pursue more generic concepts instead. (Both still both hit their funding targets). Modzeleski, who himself owns a Bad Dudes Vs. Dragon Ninja cabinet, didn't want to make some game that implied it was Bad Dudes, like my opening paragraph. He wanted to make a Bad Dudes sequel.