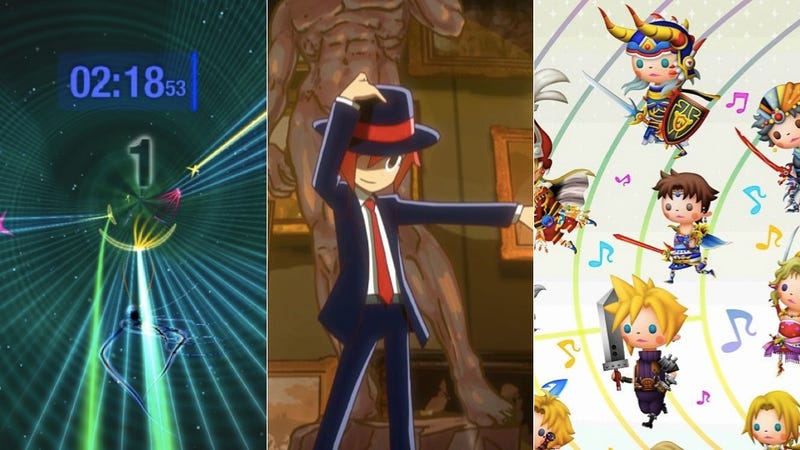 Just over the halfway mark, 2012 has already provided an embarrassment of riches for music game fans. We've had music games of every shape and color, with many more on the horizon. If you like gaming and you can keep a beat, chances are there's a game out there that you'll enjoy.
Over the past three weeks, three high-profile music games have been released— Theatrhythm: Final Fantasy and Rhythm Thief & The Emperor's Treasure for the Nintendo 3DS and next week, Dyad for the PS3. We've run all sorts of coverage of all three games, but I wanted to pull them all together into a single impressions post for Kotaku Melodic. After all, we do talk about music games here.
The three games perfectly illustrate the vastly different meanings the term "music game" can have. Here we have three games for three different audiences. Which one's for you? Maybe just one, or maybe all three. Read on.
---
Theatrhythm: The Music Game For People Who Like Final Fantasy
Theatrhythm Final Fantasy is an interesting beast. It's one part stylus-based music game, three-parts Final Fantasy nostalgia trip. I'm enjoying it, but I can't say I'm getting much out of its musical elements-I'm enjoying it purely because I like the music of the Final Fantasy games. Theatrhythm feels less like a video game and more like a ride on the "Music Island" area of a Final Fantasy theme park.
In his Kotaku review, resident JRPG-head Jason Schreier observed, " The intro screen tells you to "see the nostalgic worlds of Final Fantasy revived." This is a game that assumes you've played at least two or three installments in Square's seminal role-playing game series. If you haven't, Theatrhythm doesn't care about you."