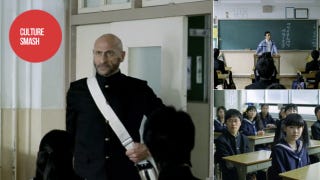 Sony's latest PS Vita commercial is set in a junior high classroom and features "an exchange student with a mysterious name".

The exchange student's name is Permetalpower Velersmiku (ペルメタルパワ ベラーミク). It's more of a mystery why a 40-something year old man is an exchange student, but that's not what is on display here. Having a middle-aged man appear in the commercial is a distancing technique that allows the commercial's creator the freedom to take a very real setting (here, a classroom) and make it unreal.
The man's name, Velersmiku Permetalpower, is said with great (and exaggerated) gusto, and the name itself is also unreal—or rather, surreal. Each part of the name refers to PS Vita games, and this is likely a series of ads. In this spot, the teacher introduces the new student, who enters the classroom and introduces himself. Since he's a foreign exchange student, I guess that's why he's moving his mouth around in a funny way? Not sure!
In the past few years, Japan has been using foreigners in new ways—as well as old ways. The old ways tend to have foreigners speaking funny Japanese (or not speaking Japanese at all). They are the other, and the commercial is often built around the clash between their foreignness and Japan. These ads seem very pedestrian.
The newer way is far more interesting. Instead of casting foreigners as outside Japanese society, these commercials put them smack dab in the middle of it. Take Konami's "Yoshida" spots for Pro Evo. Yes, the commercials play on Indian stereotypes (Curry iPad, um?), but at the same time, the foreigner in the commercials has a Japanese surname and speaks Japanese. He's foreign, but not. Thus, he gives the commercials a yosougai (unforeseen) element.