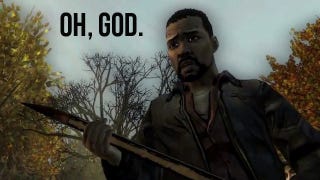 I know this dance. I've been here before, I've seen this play out. I know how it's all going to end, and for that, I hate this game a little.
See, I've read The Walking Dead—I know what this world is like. I know that you can't win, that safety is an illusion, that nothing ever turns out okay. I know what these poor people are in for. But I can't turn away.
Telltale's The Walking Dead is a game about choice. In fact, the choices are more or less what make it a game—it's a point-and-click adventure, and the only area where players have any true agency is in the decisions they make. Lie or tell the truth? Side with the father or the soldier? Kill the man who wronged you, or let him live?
Don't let those choices fool you into thinking you can "win"—there are no good outcomes in The Walking Dead. The series, which just released its second episode of five, is not concerned with good outcomes. It's concerned with putting you through the ringer, and it does a magnificent job of it.
(Heads up: In this post, I'll keep the spoilers for the second episode light, but will discuss spoilers for the first episode.)
The first episode of The Walking Dead was a pleasant surprise. Many, including me, had been frustrated with many of Telltale's past games, which ride a wide quality-pendulum between "pretty bad" and "pretty fun."
We give up a piece of our soul with each choice, but the pain we feel proves that we still have a soul to give up.
But The Walking Dead game was different. It was smartly written, and unflinching in its embrace of the gritty, hopeless source material. It featured a relatable protagonist and one of the most realistic and sympathetic video game kids I've ever met.
Better still, the game proved to be a much better treatment of the source material than the often frustrating AMC TV Show. But even as the episode one credits rolled, the question remained: Would the next four episodes be able to match the quality of the first episode?