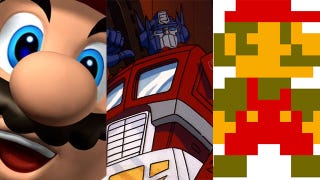 You know he's got a moustache, a red beret and a penchant for jumping on people's heads, but have you ever stopped to wonder what you maybe didn't know about Mario, the world's most popular and iconic video game character?

He's Had Three Names
In Mario's first ever video game appearance, as the hero of Donkey Kong's 1981 arcade game, he was known as Jumpman. Before that, however, legendary Nintendo designer and Mario's creator Shigeru Miyamoto wanted to call him...Mr. Video. Why? Because he thought it was "solid" and "imposing". The plan was that Mr. Video would, like an Alfred Hitchcock cameo in each of his films, appear in every game Miyamoto made.
Which wasn't far from how it's actually panned out! As for the name change, it's something Miyamoto is grateful for, as he's joked "If he had been called 'Mr. Video', he might have disappeared off the face of the earth a long time ago."
The Men Behind Mario
The two most famous men to have portrayed Mario are Charles Martinet, who has voiced the character since 1995's Mario's Game Gallery on the PC, and Bob Hoskins, who played Mario in the 1993 Hollywood adaptation of the franchise. But they're far from the only two to have stepped behind the moustache.