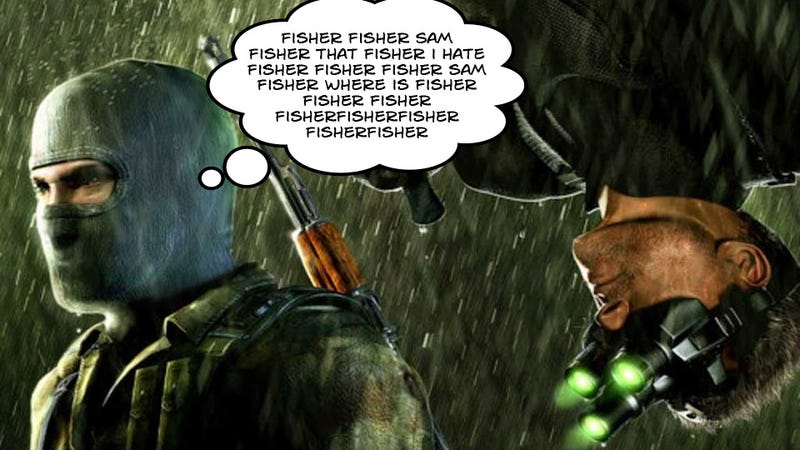 If you've played a video game, you've probably heard a bark. And not just in Nintendogs—I'm talking about an "enemy bark," which is the term for the adaptive lines of chatter that enemy characters utter throughout the game.
"He's over there!" "Did you hear something?" "I'm hit!" "I'm throwing in a grenade!"
That very common type of video game dialogue requires a fascinating, entirely new type of writing. Think about it—in movies and theater, every line happens once, and so it only needs to be written one way. Games give us worlds to inhabit, and so characters' dialogue must be much more flexible and reactive. I got in touch with some video game writers to better get a sense of how they approach this challenge, and what happens when things go off the rails.
***
"It can't be anyone from the inside; it's gotta be Fisher!"
"Still don't see Fisher. Are we sure he's here, in Third Echelon?"
"No sign of hostile activity. Fisher wouldn't try his luck here, that'd be fuckin' crazy!"
"It's gotta be Fisher!"
"Target is hiding. Be smart! Fisher's a pro."
***
Back in 2010, I wrote an article titled "Fisher-Fest 2010." It centered on the stealth-action game Splinter Cell: Conviction, chronicling every single time that the enemies in the game said "Fisher!" in reference to the protagonist, Sam Fisher. The results were somewhat astonishing. Dozens and dozens of "Fisher"s lined up in a row—disorienting, psychotic name-dropping that has irrevocably colored my perception of the game.
"I think the biggest misconception is that it's throwaway dialog, when really, it's the stuff that players are going to be hearing the most often in the game."
Since then, I've become much more aware of enemy barks, and my perception of them can significantly color my game experience. L.A. Noire had some strange overheard dialogue, and I found that I was totally weirded out by it—it seemed like everyone was talking about my character, Cole Phelps, which gave the game a bizarre, paranoid feel. Like "Fisher" in Splinter Cell, Batman: Arkham City wound up overusing the word "Bitch" to an often distracting, sometimes offensive degree.