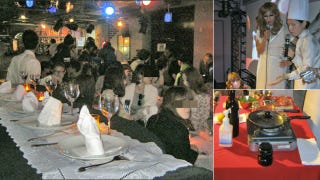 This past spring, illustrator Mao Sugiyama prepared a special dinner: Mao's male genitals (penis, testicles, and scrotum) as a ¥100,000 meal. Five diners ate the illustrator's bait and tackle at an event in Tokyo.

The penis eating event raised eyebrows in Japan and outside the country. Cannibalism is not illegal in Japan per se, so if someone deciding to prepare his or her own body parts for dinner, it could be within Japanese law.
Earlier this month, the Japanese police began investigating the event, and it seemed either the event organizers or Sugiyama could catch heat for breaking food hygiene laws.