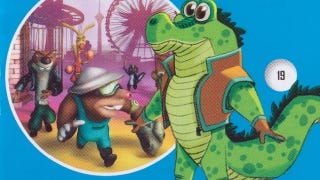 Iran's mastery of the Unity engine may not have gotten the attention of the United Nations Security Council, but games like Gando (pictured above) sure have spooked 'Murica, according to Iranian government sources quoted in a report published by Iran.
Mokhber Dezfouli, the secretary of Iran's Supreme Council of Cultural Revolution, said video games became a priority on orders from Ayatollah Seyed Ali Khameni himself. "We used to have only two weak [Iran-made] games," Dezfouli said. The item was published by the Fars News Agency, which is hardly an independent publication.
Recognizing video games' importance in exporting culture, Iran began the peaceful pursuit of an enrichment process that later "developed around 140 games with Islamic and Iranian contents which can compete with foreign products," Dezfouli said. One of them is Gando, a platformer made for children ages 3 and up.
Brian Crecente had a look at Gando and 40 other Iranian-made games back at Gamescom last year, and clicking through the gallery, some have overtly nationalistic, historical, or religious themes, but many do not. Hell, three of them dealt with the country's conflict with Iraq, one set in 1982, another in the year 2484. Any sane reading of that games catalog would see something reasonably similar in tone with what goes on in the West, which itself has no shortage of military propaganda produced in consultation with government agents.