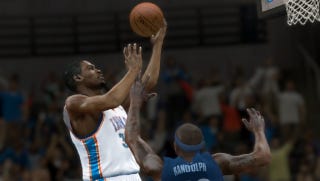 NBA 2K13 is running a Twitter campaign enticing folks to fill in tiny squares on a jigsaw puzzle to reveal the next star or stars gracing the basketball title's cover. Pastapadre has obtained an image that, while not the cover art itself, contains three extremely unsubtle hints about who the honorees will be.

In the image, which you should go check out at the link below, A couple of griffins rest on a bed of roses above a tarantula. That means Blake Griffin of the Los Angeles Clippers, Derrick Rose of the Chicago Bulls, and most intriguing, Kevin Durant (the "Durantula") of the Oklahoma City Thunder, facing elimination in the NBA Finals tonight. That's what I take the spider to mean, unless they're putting John Salley on the cover. I'm sure producer Rob Jones would like that but it probably wouldn't sell.
Anyway, Durant is absolutely one of the most visible and admirable stars in the present-day NBA, so selecting him is a no-brainer. It is intriguing because he was to have been the cover star for the ill-fated NBA Elite 11, canceled and pulled from retailers a week before its release date in 2010. Durant found out about the cancellation via Twitter. It's possible 2K wanted to get Durant to give everyone a reminder of Elite and the embarrassment it caused EA Sports.